The 1970s were not an easy time for sports cars. The halt in U.S. oil shipments by the Organization of Petroleum Exporting Countries was brief, lasting from October 1973 to the spring of '74, but its effects were immediate and profound. All over the land, drivers were forced to wait in long lines to pay record prices for gasoline -- when they could get it -- and public attitudes toward Detroit and the automobile itself began to shift.
Buyers rushed from traditional gas-guzzlers to smaller, more economical cars like domestic Ford Pintos and Chevy Vegas, but also a rising tide of well made, well equipped, increasingly appealing Japanese-made Toyotas, Datsuns, and Hondas. But the entire U.S. car market suffered, and the U.S. economy with it. After climbing to 11.2 million units in calendar 1973, sales plunged over 20 percent to near 8.6 million in '74 and 8.5 million in '75. The market then rallied, but never surpassed its '73 high.
In response to the gas crunch, Congress mandated higher "corporate average fuel economy" (CAFE) for all automakers doing business in the U.S., starting with model-year 1978. But more government mandates were hardly what manaufacturers needed. Even Detroit was still struggling to reduce tailpipe emissions specified by the Clean Air Act of 1970. And there were more safety standards to meet, including bumpers able to survive 5-mph shunts without damage, required for 1973 (front) and '74 (rear).
Such sobering new realities took their toll on many fun-loving sports cars. To be sure, some great new models appeared in the 1970s. Here are profiles of some of the greatest:
­­
The Italians were also confounded by the new federal regulations, and the French didn't bother at all with genuine sports cars for the U.S. Even the invincible Germans and fast-rising Japanese had problems. But not all Seventies sports cars were unmitigated disasters. The Chevrolet Corvette, for example, never lost its style. Some performance was lost to clean-air necessity, but also because insurance companies had raised hot-car premiums to impossible heights early in the decade. Chevy was thus correct to morph the 'Vette from fiery muscle car to a more efficient, tight-handling gran turismo, especially once the energy crisis left behind permanently higher gas prices.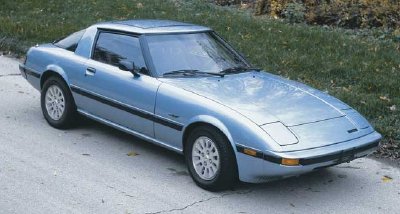 The Porsche 911 also adapted to changing times without losing its essential character, and became even more exciting when the high-power Turbo version came along. Porsche's midengine 914 and later front-engine 924 might not have been everything people expected of the marque, but at least they were affordable and surprisingly practical new choices. The rotary-powered Mazda RX-7 was hailed on its 1978 debut as a "new 240Z" and thus a hopeful sign that sports cars did have a future after all.
That symbolism was put to the test when a second energy crisis hit in early 1979, triggered in part by the ouster of the Shah of Iran. It hit hard, especially in Detroit, which was soon hitting the brakes in the face of another market downturn, aggravated by increasing sales losses to "Japan, Inc." Thus ended one of the most turbulent decades for the U.S. economy since the Depression.
The Seventies might not have led to the American life we know in the early 21st century, but the events of those years definitely left the automotive world forever changed. Happily for our story, one thing could not be changed: Sports cars are forever too.
Advertisement