Hollywood could make a movie about Briggs Swift Cunningham, creator of the Cunningham C-3 Continental, and should. The son of a Cincinnati banker and godson of the Proctor half of Proctor & Gamble, he cut a dashing figure in high society. He knew all the "right" people (many as rich as himself) and had a passion for sports: golfing, flying, yachting especially -- and sports cars. After joining the infant Sports Car Club of America in the early postwar years, Briggs drove to second at Watkins Glen in 1948 in his unique "Bumerc," a rebuilt Mercedes SSK with Buick power.
Then Briggs got serious. Having met Phil Walters and Bill Frick at the Glen, he acquired their services as driver/engineers by buying their small company, hoping to enter their hybrid "Fordillac" in the 1950 running of the Le Mans 24 Hours, the world's premier endurance race. But the Fordillac didn't qualify, so Briggs fielded two cars powered by Cadillac's new ohv V-8. One was a big special-bodied streamliner (nicknamed Le Monstre by appreciative French racegoers), the other a stock 1950 Coupe de Ville. Against all odds, the latter finished 10th overall, the special 11th.
Buoyed by this success, Briggs turned to crafting his own sports-racing cars, setting up a company in West Palm Beach, Florida that same year. "We don't intend to build two types of car, one for racing and the other for touring," he said. "Our policy is to concentrate on one model readily adaptable for both purposes." Before it was all over in 1955, he'd develop several.
The first, logically tagged C-1, was a smooth, low-slung roadster that looked like a cross between the early Ferrari Barchettas and some of the later Ghia-bodied Chrysler specials. Power was supplied by Chrysler's 331-cubic-inch hemi-head V-8, mounted in a strong tubular-steel chassis with independent coil-spring front suspension, De Dion rear end, generous 105-inch wheelbase, and broad 58-inch front and rear tracks. Only one C-1 was completed, equipped for road use, rather lavishly so by European standards.
Next came the evolutionary C-2. Only three were built, all racers designated C-2R. Walters and Fitch drove one at Le Mans '51, but had to settle for 18th overall.
Late that year, Briggs decided to make the C-2 more of a road car and sell it in limited numbers. The resulting Cunningham C-3 would be offered as a coupe in addition to the usual roadster at respective base prices of $9000 and $8000. Also planned was a $2915 racing package comprising four-carburetor manifold, ported and polished heads, oil cooler, competition brakes, and racing bumperettes and grille screen. But by the time a prototype coupe was finished, someone had figured out that each Cunningham C-3 would cost $15,000 just to build.
That was no way to run things, so in early 1952, Cunningham contracted with the Alfredo Vignale coachworks of Turin, Italy to build Cunningham C-3 bodies to a new design by Giovanni Michelotti. With this, the projected base price was dropped back to $9000.
What emerged was an American gran turismo as elegant and exciting as anything from Europe. The Cunningham C-3's ladder-type tube chassis (with modified Ford front suspension) was almost identical with the C-2's, but the De Dion rear end gave way to a coil-sprung Chrysler live axle located by parallel trailing arms.
Brakes were a combination of 11-inch-diameter Mercury drums and Delco actuating mechanisms. Wheelbase remained at 105 inches initially, but was later stretched two inches for more proper 2 + 2 seating. The V-8 used was basically as supplied by Chrysler Industrial except for Cunningham's own log-type manifolds with four Zenith downdraft carburetors.
Inside and out, the Cunningham C-3 bore more than a passing resemblance to other Michelotti/Vignale designs of the period, particularly some early Ferraris. The bodywork was distinctively Vignale though, one of the coachbuilder's better efforts in these years.
Pleated-leather seats graced the cockpit, while the dash was dominated by a large speedometer and matching combination gauge with clock; a small tachometer was mounted between and slightly above the main dials. Luggage had to be carried inside, because the spare tire and fuel tank occupied most of the normal trunk space.
The first C-3 coupe, named Cunningham C-3 Continental, was finished in time for the Cunningham team to drive to the Glen in September 1952. It then toured U.S. auto shows while a second car was displayed at the Paris Salon that October.
"Production" got underway by early 1953. Unfortunately, while the Palm Beach works could build a chassis a week, Vignale needed almost two months to complete the rest of the car. A planned cabriolet derivative was shown at Geneva in March while assembly continued at this snail's pace. Ultimately, just nine cabrios and 18 coupes would be built, the former carrying a delivered price of exactly $11,422.50. It was as close as Briggs ever got to a production model.
Of course, the real reason for all this was to give Cunningham a contender in production-class racing, though the Cunningham C-3 Continental was really too big and heavy to be much of a threat. Briggs' remaining competition efforts would be made with further variations on his original theme: the C-4R and C-4RK, C-5R, and C-6R.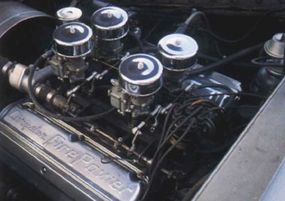 Nevertheless, the Cunningham C-3 Continental was svelte and compact next to most contemporary American cars, and it was a styling tour de force. Arthur Drexler, then director of New York's Museum of Modern Art, put the coupe on his list of the world's 10 best designs. For a discerning, monied few, the Cunningham C-3 Continental was a terrific buy, and it sold as quickly as the Cunningham company could build it.
Still, it might have made real money with a lower price or more sophisticated running gear. A Cadillac, Lincoln, or Chrysler could carry twice the people for half the money -- and in greater comfort over long distances -- while some of those able to pay the lofty price doubtless shunned the Cunningham as just a bunch of Yankee parts in a fancy foreign wrapper.
The Cunningham C-3 Continental was probably every bit as good as a contemporary Ferrari -- maybe better in some respects -- but it wasn't Italian. And while the Chrysler hemi was likely the best engine of its day, it had pushrods, rocker arms, and only one camshaft. Anyone spending $12,000 for a car in the early Fifties wanted something exotic, even if it wasn't reliable.
A pity. They missed a very good car.