Frank Kurtis, creator of the Kurtis Sport, was famous for high-performance sports cars long before Colin Chapman or Carroll Shelby appeared on the scene. A chassis designer of enormous skill, he built a series of highly competitive racers beginning in the Twenties, many of them dirt-track midgets powered by that favorite engine of speed merchants everywhere, the flathead Ford V-8.
­He'd go on to even greater fame in the postwar era with formidable Indianapolis cars that would win the fabled "500" four times between 1950 and 1955. But like Chapman and Shelby, Kurtis couldn't resist applying his competition know-how to a street sports car.
His first attempt was the Kurtis Sport of 1948, a slab-sided two-seat convertible that Motor Trend magazine said had "all the features a sports car should have: speed, maneuverability, acceleration, power, and sleek looks." Unusual for the day, its chassis was integral with a body comprising 10 panels, all aluminum except for hood and rear deck, which were fiberglass.
Appearance was bulbous but pleasing, aided by a tight 100-inch wheelbase, 169-inch overall length, and 68-inch width. A simple bumper/grille with large guards was mounted on rubber shock absorbers, a forecast of the "safety" bumpers we'd love to hate in the 1970s, and there was a full-perimeter chrome rub rail for bodyside protection.
Within the handsomely furnished cockpit was full instrumentation arrayed directly ahead of a big steering wheel on an axially adjustable column, another predictive feature. Side windows were clumsy, clip-in Plexiglas affairs, but a removable rigid top was included besides the expected soft top.
Like interior hardware, the Kurtis Sport's suspension and running gear were mostly proprietary components, though Frank tuned spring and damper rates for optimum handling and roadholding. The powerteam was anything the buyer wanted, though 239-cubic-inch Ford flatheads with Edelbrock manifolds were fitted to most examples. A kit car was also available at prices ranging from $1495 to $3495 depending on completeness.
Light weight gave the Kurtis Sport good go despite the flathead's modest power, and reviewers loved the car's nimbleness and stability. But Kurtis-Kraft was a small outfit, building cars largely -- and slowly -- by hand, so sales were as sparse as profits. After seeing just 36 Sports out the door through 1950, Frank sold his Glendale, California operation for $200,000 to Los Angeles used-car dealer, radiomaker, and pioneer TV pitchman Earl "Madman" Muntz, who stretched the Sport into a luxury four-seater and sold it with Cadillac or Lincoln power. Called Muntz Jet, it garnered just 349 orders through 1954, forcing Muntz to bail out too.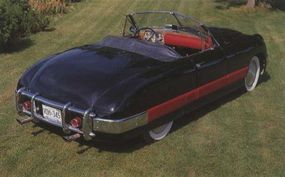 But Kurtis hadn't given up on a series-production sports car. In 1954, his Kurtis Sports Car Corporation produced 50 chassis based on the tubular 500KK design with which Bill Vukovich had won the 1953 Indy 500. Some 30 of these were sold to individuals who clothed them in various aftermarket bodies, but the remainder got fiberglass roadster coachwork, supplied by McCulloch Motors, and Cadillac running gear (also used in a few Sports).
The result, tagged 500M and priced at $5800, looked something like a scaled-down '54 Buick Skylark but had roughly rectangular bodyside recesses, usually finished in a contrasting color. Wheelbase and track dimensions (56 inches front and rear) were the same as the Sport's, but curb weight was about 200 pounds higher. Still, the 500M was "guaranteed to out-perform any other sports car or stock car on the road." And fast it was: up to 135 mph with the standard GM Hydra-Matic.
Also in 1954, Kurtis fielded the 500S, a stark, Allard-like dual-purpose roadster designed mainly for road courses and dirt-track ovals. It, too, was sold fully built (at around $5000, depending on running gear) or as a kit (in four stages of completeness). The S enjoyed great success in the hands of owner/driver/mechanics like Bill Stroppe, whose flathead-Ford-powered car beat a lot of high-priced foreign machines in 1954 West Coast events.
Vukovich, still in the Kurtis he'd first driven at Indy in 1952, won the 500 again in '54, while seven other of Frank's cars finished in the remaining top nine places. Alas, Kurtis' greatest triumph would be his last, for he soon turned to more mundane endeavors, including the construction of airport service vehicles.
Some of those undoubtedly ended up at Los Angeles International, where Carroll Shelby would set up shop in a few years. But that, as they say, is a whole 'nuther story.