Fiero means "very proud" in Italian, and that's how Pontiac feels about its car of that name. Why? Because Fiero is not just Detroit's first mid-engine production effort but only its second volume two-seater since the mid-Fifties Ford Thunderbird.
Yet within Pontiac itself, the Fiero had more significance as a moral victory: the sports car for which the division had fought for the better part of 20 years, an alternative to the Corvette from rival Chevrolet. Not that it started out as such. Rather, it was broached in 1978 as a "commuter car," a high-mileage mini to help General Motors meet the government's new corporate average fuel economy (CAFE) standards that took effect that year.
Sports Car Image Gallery
But the urge toward a full-fledged sports car was irresistible, especially since even the "commuter" concept envisioned a mid-engine/rear-drive layout with a transplanted power package from the forthcoming X-body front-drive compacts. In October 1978, GM president Elliott M. "Pete" Estes okayed the idea -- perhaps for sentimental reasons: He himself had pleaded for a two-seat Pontiac as division chief back in the Sixties.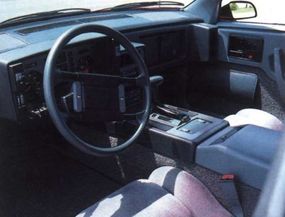 The interior of the Pontiac Fiero matched theexterior: it was sleek and efficient, but small.
Unusually for a GM project, Pontiac Fiero engineering development was assigned to an outside firm, Entech of Detroit, with Hulki Aldikacti as overall director. Basic styling evolved under Ron Hill in Advanced Design III, then finalized from April 1980 in Pontiac Exterior Studio II under John Schinella, who also came up with the Fiero name. Corporate cash-flow problems almost killed the project several times in 1980-82, but Aldikacti ultimately convinced management that the Fiero not only made financial sense for GM but was vital for injecting new life into a Pontiac image that had become confused and stale.
The result was a "corporate kit car," with a 2.5-liter four-cylinder engine mounted transversely behind the cockpit on an X-car engine cradle. The compacts also donated their 4-speed manual and optional 3-speed automatic transaxles, plus front suspension and brakes, used aft, of course.
Up front were Chevy Chevette steering, suspension, and brakes. A major innovation was the fully driveable space-frame chassis structure to which various Enduraflex plastic (not fiberglass) body panels attached, construction that would make style changes easy, cheap, and fast. Only four color choices would be offered at any one time in the interest of quality control, which was claimed to represent a new Pontiac peak.
Arriving in base and spiffier S/E trim, the Pontiac Fiero received wide and mostly favorable press coverage. "Buff books" applauded the handsome styling, practical packaging, and overall roadability, but longed for a quieter, lighter car with more oomph, a 5-speed gearbox, smoother ride, and less twitchy cornering. Pontiac responded.
The Pontiac Fiero was named Pace Car for the 1984 Indy 500, which spawned replicas with a snarky new ground-hugging nose. This returned for 1985 on a new GT model powered by Chevy's fine port-injected V-6 (also from the X-cars) with 52-percent more power than the base four. Standard rear spoiler, "ground effects" body addenda, uprated Y99 suspension, and a mellow exhaust system enhanced the newcomer's mini-muscle-car aura.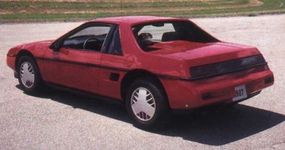 The Pontiac Fiero GT featured "flying buttress" rear roofsupports and a slick fastback style.
Sans V-6, this package became the 1986 S/E model, followed at mid-season by a new GT with revised rear flanks and "flying buttress" fastback roofline. The promised 5-speed, a Getrag design built by GM under license, didn't arrive until June. Changes for 1987 were limited to a larger fuel tank (12 versus 10.2 gallons, answering a persistent complaint) and additional minor trim and equipment revisions.
The sporty twosome became even more so for 1988 as the Pontiac Fiero finally got its own suspension. Though geometry stayed broadly the same, the new components made handling tighter, cornering more predictable and fun. A new Formula package option with GT-style appearance and chassis specs arrived to spice up the S/E notchback, and an improved linkage made 5-speed shifting a genuine pleasure in V-6 models. Alas, steering remained manual -- and heavy at low speeds -- though Pontiac hinted that power assist was in the offing.
The Pontiac Fiero will no doubt continue to mature. It's already evolved into base-model "commuters" as originally envisioned, but the S/E and GT are the ones to have: genuine sports machines that are downright exciting with the right options. They're cars to do any enthusiast proud.
To learn more about Pontiac and other sports cars, see:
How Ferrari Works

How the Ford Mustang Works