Fiat 124 Sport Spider
The Fiat 124 Sport Spider didn't get the credit it deserved in its early years. A few sports cars, the Alfa Romeo Duetto for example, are fully appreciated only after they're gone. Some -- most any Porsche -- win accolades the moment they appear. Still others seem well regarded while in production, then their reputation fades.
Perhaps it's the Fiat lineage that tarnished the 124 Sport Spider's legacy. Possibly it's that the car wasn't very fast. Maybe its econo-sedan roots and friendly price painted a pedestrian image. But as its two-decade run unfolded, the Fiat 124 Sport Spider came to be considered an eminently enjoyable example of a fading golden age.
"It's a highly refined sports car with appealing styling, excellent ride and handling, and rather modest all-out performance," said Road & Track in 1976. "It isn't as new as tomorrow by any means but it has survived the test of the years to become a classic in its own time."
As with many a sports car, beneath the Spider could be found a sedan; in this case, Fiat's little 124 four-door. Starting in 1968, the Italian giant actually based two sporting cars on this platform: an airy four-passenger coupe with the standard 95.3-inch wheelbase and the Spider on a 5.5-inch shorter span. For the sporting applications, the basic 124 chassis was altered only with higher spring rates, wider tracks and wheels, and all disc instead of disc/drum brakes.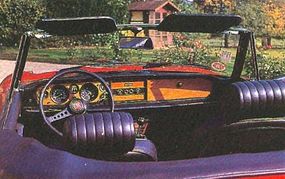 The cabin of the 1974 124 Sport Spider was comfortable despite thearms-out driving position.
Pininfarina did the styling and the Spider never really looked outdated, even integrating 1970s federal "crash bumpers" without much disruption. The arms-out driving position was too Italian for most, and despite a padded "back seat," this ragtop was a 2+2 in theory only. But the five-speed gearbox shifted crisply, instrumentation was thorough, and no sports car had a soft top that folded easier or sealed better.
The 96-hp 1.5-liter enlargement of the 124 engine boasted a new twincam head with toothed-belt cam drive, a world first. Displacement and tuning fluctuated during the '70s to meet U.S. smog rules. The car reached its ultimate form by 1981 as the Spider 2000, with a fuel-injected 102-hp 2.0-liter. Fiat fled the American market in 1984, but transferred Spider production and marketing to the coachbuilder, which sold an upgraded edition, the Pininfarina Azzurra, for another year or so in the United States.
Greatness doesn't require a sports car to gain stature after it retires. That it was great in its own time, on its own terms, is quite enough.
To learn more about Fiat and other sports cars, see:
How Ferrari Works

How the Ford Mustang Works