It's 1949, and budding British automaker Donald Healey is bound for America on the Queen Elizabeth, hoping to buy Cadillac V-8s for his latest creation. Also aboard is George Mason, president of Nash-Kelvinator. Mason tells Healey that Caddy's new engine is in short supply, but that Nash's rugged Ambassador six is readily available. By the time they reach New York, a new sports car is born: the Anglo-American Nash-Healey.
A prototype was displayed in Europe within nine short months, and production was underway by 1951 at Healey's small Warwickshire shops, newly expanded for this purpose. The Nash-Healey soon made its American debut as a two-seat roadster with slab-sided aluminum body (by Britain's Panelcraft), Healey-designed chassis, and a Nash engine warmed-up by twin carburetors, wilder camshaft, and a special high-compression aluminum cylinder head. Price was Cadillac-costly at $4063, but included leather seats, white-wall tires, and overdrive three-speed manual gearbox.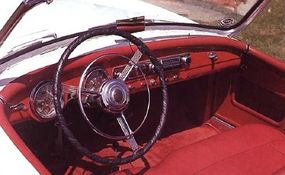 The Nash-Healey quickly proved itself in the most demanding of contemporary European motorsports, but high finishes in the Mille Miglia and at LeMans did nothing for sales at home, which were very low because of the high price. The Nash-Healey was thus revamped for 1952, gaining a stylish new steel body by Italy's Pininfarina, plus, as a running change, a larger Nash six with 10 hp more. But price went some $ 1800 higher to cover the hefty expense of shipping American powertrains to England, rolling chassis from there to Italy, and completed cars back to the States.
Nevertheless, sales rose a bit. Meanwhile, the Nash-Healey revisited LeMans, placing third overall and second in the Index of Performance. Nash celebrated for '53 with a stretched-wheel-base LeMans coupe, but priced it at a towering $6399. That year's roadster cost $5908. Once again, though, sales crept up.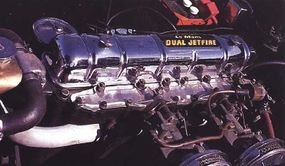 Only the coupe returned for '54, with a wrapped rear window and a friendlier $5128 price. But money troubles meant Nash could no longer afford its low-volume sports car, so Nash-Healey production was wound down in August, ironically after a final flourish at LeMans (eleventh overall).
For so obviously capable a machine, the Nash-Healey deserved a better fate. It did not die in vain, however, for its disappointing sales led Donald Healey to create a more affordable, Austin-powered sports car, the...well, you know.