Recapturing past glories can be a tricky business. Take the Jensen-Healey. Road & Track concluded its 1973 test of the car with this lament: "To remember the originality, the impact, the appeal of the original Austin-Healey is to know and regret that the Jensen-Healey is only competitive with cars in its class."
The Jensen and Healey names first linked in the mid 1950s, when British Motor Corporation tapped specialty builder Jensen to supply Austin-Healey bodies. Jensen was selling its own cars by then -- fast grand touring coupes built in small numbers with Chrysler V-8 power. But body and assembly contracts remained one of its major revenue sources into the late '60s. Then the contracts dried up, car sales weakened, and Jensen was on the financial ropes.
Enter Kjell Qvale, veteran San Francisco import-car baron and U.S. Jensen distributor. Qvale had sold a lot of Austin-Healeys, and thought a modern successor would do well enough to turn Jensen around. With this as the core of a rescue package, Qvale bought the firm while persuading Donald Healey and son Geoff to lend their talents -- and name -- to a new moderately priced open two-seater -- a "Big Healey" for the '70s.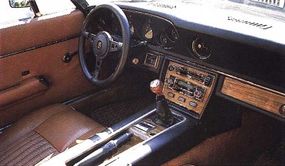 Unfortunately, the convertible that arrived in 1972 was far less memorable than the late Austin-Healey. Styling was unexceptional, steering and coil-spring live-rear-axle suspension were Vauxhall (British GM) parts, and the four-speed gearbox came from Chrysler UK. Though it was based on a production Vauxhall unit, at least the engine was advanced: a new 2.0-liter 16-valve twin-cam four-cylinder built by Lotus.
Despite its mixed parentage, the J-H offered fine handling and good performance even in smog-legal U.S. tune. But cowl shake and a clumsy top did not appeal, bodies rusted ferociously, and the Lotus engine was less than reliable.
With all this, sales ran well below expectations, and there was no help from a five-speed gearbox (for '73) nor a posh, squarish GT coupe companion (announced in mid 1975). The venture finally folded in 1976. Faults notwithstanding, the Jensen-Healey was a credible old-school sports car. But it wasn't superior to rivals from bigger, more established companies, and it was certainly no Austin-Healey.