The Monteverdi 375-Series was in abberation in many ways. Although Switzerland stands proudly independent amidst Italy, France, and Germany, it has never developed a strong native motor industry. Observers were thus quite surprised in 1967 when Binningen-based businessman Peter Monteverdi announced that he would not only build a car in Switzerland but that it would take on the world's premier high-performance makes.
Monteverdi was a successful, well-established motor trader, having been the Swiss BMW importer and manufacturer of the MBM single-seat racers. Predictably, he took the simplest and most practical route to his new GTs, designing the chassis himself but looking to the Italians for styling help and to Detroit for drivetrains.
The first Monteverdi was a two-seat semi-fastback coupe dubbed the Monteverdi 375S, built on a separate tubular-steel chassis with coil-spring front suspension and De Dion rear. The latter, of course, isn't the best solution for fast-car handling, as it's halfway between a live rear axle and a fully independent setup. But Monteverdi, with neither time nor money for his own irs, decided that what was good for Aston Martin was good enough for him.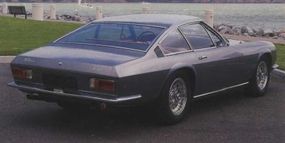 Monteverdi also had his own ideas about styling, but wisely enlisted Pietro Frua to refine them. The result looked like a slightly sleeker rendition of two Frua-designed contemporaries, the AC 428 and Maserati's Mistral (see entries). Bodyshells were supplied by Fissore in Italy.
The Ferrari-esque model designation referred to the SAE gross horsepower of the standard 440-cubic-inch Chrysler V-8 (re-rated by the mid-Seventies to 305 bhp SAE net). For a not-so-few dollars more, you could order a "High Speed" model powered by the famed 426-cid hemi with 450 bhp (SAE gross). Either could be teamed with Chrysler 4-speed manual or 3-speed TorqueFlite automatic transmission. The latter would end up being fitted to most of the relatively few 375s built during the series' 10-year lifespan.
Soon after announcement, the Monteverdi 375S was joined by a companion 2 + 2 called 375L, followed in 1969 by a two-place cabriolet, logically designated 375C. All rode a 105.5-inch wheelbase. The chassis was stretched to no less than 125 inches between wheel centers for a large, heavy four/five-seat sedan, the 375 Limousine.
Then in the spring of '75, the Cabriolet was put on a 98-inch wheelbase and given a restyled front to become the Palm Beach Spider. Chassis and mechanical specifications were otherwise the same for all models, and largely unchanged during the entire production run. Styling was typical late-Sixties Italian supercar: rather angular contours, glassy greenhouse with slim pillars, shapely tails, and broad eggcrate grilles with quad headlamps.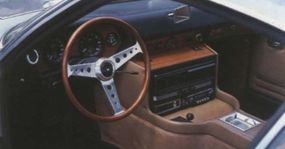 As the Chrysler engines were designed to motivate heavyweight New Yorkers and Imperials, they returned somewhat better performance in the lighter Monteverdis. The 440 could see all but the Limousine to over 150 mph, competitive with most Maseratis if not the magnificent Ferrari Daytona. The hemi-engine cars were faster still, as quick as most any Ferrari or Lamborghini save the mid-engine Berlinetta Boxer and Miura.
Though reliable figures are hard to come by, it's doubtful Monteverdi production exceeded 50 cars in any one year, and was probably much lower in most. Sales were confined mainly to Europe, as there was no U.S. marketing effort, and prices were towering for these largely handbuilt machines.
In retrospect, the lack of U.S.sales seems odd, as the use of Chrysler drivetrains would have made meeting federal emissions regulations a lot easier for Monteverdi than most other exoticar builders. Perhaps the whole thing was nothing more than a hobby for Mr. Monteverdi.
Regardless, by 1977, perhaps a little earlier, the Monteverdi 375-Series was gone and Peter Monteverdi had turned to selling plushed-up, slightly restyled Dodge Aspen sedans, called Sierra, through his handful of European dealers. He later applied a similar "boutique" treatment to the four-wheel-drive Range Rover.