When fashion mogul John Weitz decided to build a "designer" sports car in the early 1980s, he just might have had Cisitalia in mind. Piero Dusio, an ingenious salesman and former soccer star, had formed Consorzio Industriale Sportiva Italia to make sporting goods, primarily bicycles, tennis rackets and clothing. By 1946, however, it was also building cars -- later to include the Cisitalia 202 Gran Sport -- a reflection of Dusio's passion for automobile racing.
Not surprisingly, Cisitalia's first cars were single-seat 1100-cc racers based on cheap and commonly available Fiat mechanical components. About 50 were built in two years, and so dominated their class that Dusio formed a traveling "circus" with 16 cars performing and some of the best Italian drivers of the day. Two of Italy's best engineers were responsible for the design: Dante Giacosa, later chief engineer at Fiat, and Giovanni Savonuzzi, then of Fiat's experimental-aircraft division. These Cisitalias preceded the more popular Italian-designed Formula Junior race cars by more than a decade.
Encouraged by his success, and apparently ignoring the fact that his efforts hadn't been noticed much outside Italy, Dusio embarked on a more ambitious program: a two-seat sports car. Again he used Fiat components, but this and the chassis were the sole legacies of the monoposto competition machines. The chassis was of space-frame construction -- light and strong but slow and expensive to build -- with independent front suspension and a live rear axle.
Front geometry was borrowed from Fiat's minicar, the beloved "Toppolino" (mouse), with a lower A-arm on each side and a single transverse leaf spring, the latter also providing upper wheel location. Semi-elliptic leafs sprung the rear. All-round drum brakes came from Fiat's workaday 1100-series family models, but were more than adequate for the new Cisitalia's light weight and modest performance. The engine, also Fiat 1100, was fortified by means of higher compression, dual downdraft Weber carburetors and dry-sump lubrication.
The first two-seat Cisitalias were lightweight racing coupes and roadsters with aluminum bodies bearing rear fender skirts and large tailfins. Like the single-seaters, they were successful in their class, and in expert hands could sometimes beat faster, more powerful cars. Famed pilot Tazio Nuvolari was particularly successful in a Cisitalia.
But though attractive, these no-nonsense racers were literally ill-equipped to double as road cars, a business Dusio also wanted to get into. To help him do that, he wisely turned for development help to Giovanni Battista Giuseppe Farina, better known by his family nickname, "Pinin." The result was a beautiful little fastback coupe that has since become a legend.
The reason, of course, is Farina's trend-setting body design, with modern flush-fender sides and a simple front end predictive of his early Ferraris. Named Type 202 Gran Sport, this car was stylistically very advanced for the late Forties and a real work of art. New York City's renowned Museum of Modern Art made that description official in 1951 by selecting the Cisitalia 202 Gran Sport as one of the 10 best automotive designs of all time, and putting one on permanent display. As you might expect, it still looks good today: smooth, well-proportioned, simple, and unaffected. Its only questionable element is the Buick-like portholes at the top rear of some front fenders (one or two per side, depending on year).
Essentially a roadgoing version of the racing two-seater, the Cisitalia 202 Gran Sport coupe was soon joined by a companion cabriolet. But prices were prohibitive for the time -- $5000 and $7000, respectively -- especially for small-displacement cars that weren't all that fast. They were beautiful and fun to drive, but there weren't that many people in Italy or anywhere else able or willing to pay such sums, even for a work of art.
Consider that by 1949, for about half what the Cisitalia 202 Gran Sport convertible cost, you could have Jaguar's sleek and sexy XK120 roadster, a genuine 120-mph car with a twincam six. And for $2000 less than the Cisitalia 202 Gran Sport coupe you could get a Porsche 356 which, while not that much faster, at least had all-independent suspension.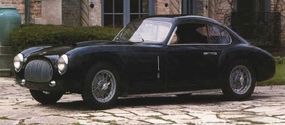 While its beauty wasn't only skin deep, the Cisitalia 202 Gran Sport simply didn't have the muscle to attract many sales in the high-flying, horsepower-crazy market of the day, and the high price was hard to justify even for a car that looked that good, especially when it used a lot of mass-production parts and almost any old American car could run rings around it.
The postscript to this story is a sad one. Hastened by development costs for a planned Grand Prix racer, Cisitalia ran out of funds in 1949 and Dusio moved operations to Argentina. He built cars there, but of a very different stripe. Meantime, Cisitalia 202 Gran Sport production was slated to resume in Italy under new ownership, and did, but the cars were basically cobbled-up amalgams of special bodies and workaday chassis and drivetrains. Production was sporadic in any case, though it continued as late as 1965.
With all this, serious enthusiasts will look no further than the Italian-made cars, though they'll have to look hard to find one. In all those years, only 170 Cisitalia 202 Gran Sports were completed, including a mere 17 cabriolets.