Fiat 1200/1500/1500S/1600S
The maker of the Fiat 1200, 1500, 1500S, and 1600S models, Fiat has been the General Motors of Italy for as long as anyone can remember and, like the American firm, got into the sports-car business relatively late. Fiat's first postwar move in this direction was the 8V of 1952-54, but this was strictly a limited-production indulgence (only 114 built) while the 1100 Transformabile of 1955-59 was ugly and unsuccessful. Then, with help from Pinin Farina and OSCA (Officina Spedalizzata Costruzione Automobili), Fiat finally got serious about sports cars in 1959, when it started down the road to building the 1200, 1500, 1500S, and 1600S models.
One of Fiat's best-sellers at the time was the 1200 sedan, a chunky, uninspired four-door with unit-steel construction, coil-spring independent front suspension, and a live rear axle suspended and located by semi-elliptic leaf springs. This hardly seemed the stuff of which sports cars are made, but technical chief Dante Giacosa knew better. Retaining the sedan's powertrain, floorpan and some inner body panels, he called in PF to build him a sports car.
PF (which always insisted it had nothing to do with the Transformabile) produced a simple but attractive two-seat convertible complete with wind-down door windows -- and consequently landed the contract to build production bodyshells in quantity. Fiat would provide floorpans; PF would build, paint, and trim the bodies before returning them to Fiat's Lingotto factory for final assembly.
Meantime, Fiat had decided to offer a choice of engines: the sedan's plodding 1221-cc ohv four and a newly designed 1.5-liter twincam unit. Fiat had planned to build the latter, but turned instead to OSCA, the Bologna-based engine and race-car specialist then run by the Maserati brothers.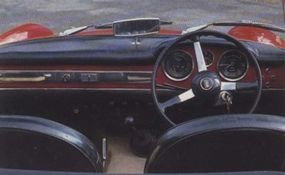 The civilized cockpit of the Fiat 1600S had plenty of embellishments.
Both new models were revealed in 1959: the 1200 Cabriolet with 58 horsepower and the 80-bhp, OSCA-engine 1500S. As the twincam version wasn't meant to be a volume item, it was left to the pushrod two-seater to establish Fiat's sports-car credentials, which it did in short order.
Both were stylish and well equipped little tourers, and the 1500S was as fast as an Alfa 1.3 Giulietta. PF soon produced a removable hardtop as a factory-approved extra. Also with Fiat's blessing, it built and marketed a fixed-roof model that looked rather like PF's later Lancia Flavia coupe design.
The next six years brought numerous improvements to these conventional but sweet-handling open Fiats. The 1500S gained standard front disc brakes at the end of 1960, then became the 1600S via substitution of an enlarged OSCA-built engine boasting 90 bhp.
The original 1200 was similarly upgraded in March 1963, being "re-engined" with the latest 1481-cc pushrod four from the new Lampredi-designed sedans to become a 1500 Cabriolet. This brought 72 bhp and more torque, bumping top speed to about 90 mph. At the same time, the 1600S acquired rear disc brakes and a modified four-lamp nose.
The most significant change of all appeared in March 1965: a brand-new 5-speed all-synchro gearbox for both models. It didn't increase their performance, but it did make them easier to drive. It also hinted at Fiat's future, for this same gearbox would return in 1966 for the successor 124 Sport Coupe/Spider and the 124/125 sedans on which they were based -- the most successful postwar cars in Fiat history.
To learn more about Fiat and other sports cars, see:
How Ferrari Works

How the Ford Mustang Works