Concept cars are a look into the showrooms of tomorrow -- and into the world of cars that never were. Link to the articles below for picture-packed profiles of some of wildest concept cars ever.
Most concept cars are one-of-a-kind jewels built to brighten a carmaker's auto show display. With big fins and bubble tops, concept cars can be pure flights of fancy, like the 1956 Packard Predictor. They can also be disguised versions of near-future production models, like the Oldsmobile Aerotech III.
That's not all. Our articles expand the concept car theme, slipping into automotive design studios to reveal secret proposals left on the cutting room floor. Want to see what Edsels might have looked like had Ford not killed its ugly duckling? Check out 1950s and 1960s Edsel concept cars. A Chevrolet Camaro station wagon? It nearly came to be. Check out the Camaro "Kammback" concept.
Enjoy this ride though the fantastic world of concept cars.
AMC Concept Cars
1960s AMC Concept Cars

1969 AMX/2 Concept Car and 1970 AMX/3
Cadillac Concept Cars
1960s Cadillac Concept Cars

1988 Cadillac Voyage and 1989 Cadillac Solitaire Concept Cars
Chevrolet Concept Cars
1970s Chevrolet Corvette Concept Cars

Chevrolet Camaro and Pontiac Firebird Concept Cars

1989 Chevrolet California IROC Camaro Concept Car
Chrysler Corp. Concept Cars
1950s Chrysler Concept Cars
Ford Motor Co. Concept Cars
1950s and 1960s Edsel Concept Cars
Pontiac Concept Cars
1988 Pontiac Banshee Concept Car
Studebaker Concept Cars
1960s Studebaker Concept Cars

1963 Studebaker Westinghouse Pickup Truck Concept
Willys Concept Cars
Concept Cars From Other Manufacturers
1980 Briggs & Stratton Hybrid Concept Car

1985 Buick Wildcat Concept Car

1950s Gaylord Concept Cars

1989 Mitsubishi HSR Concept Car

1987 Oldsmobile Aerotech Concept Car

1957 and 1958 Packard Concept Cars

1989 Porsche Panamericana Concept Car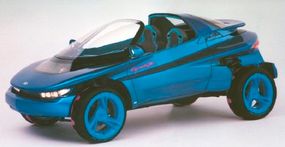 The
Ford Splash
spoke of fun in the sun, but is an example of a concept car that stayed in the dream world, never really influencing showroom models.
©2007 Publications International, Ltd.
For more on concept cars and the production cars they forecast, check out:
Future Cars

Consumer Guide auto show reports

Classic Cars