Even though Cadillac killed its romantic companion make, LaSalle, after 1940, introduction of the 1940s and 1950s Cadillac LaSalle concept cars gave a glimmer of hope for LaSalle's return.
Cadillac's LaSalle was one of only two of General Motors' late-1920s "expansion makes" to survive the Depression. The other, of course, was Pontiac. But LaSalle did not survive the 1940s, despite moving downmarket from "near-luxury" junior Cadillac after 1933 to an upper-medium-price product that enjoyed several good sales years.
The reason for LaSalle's eventual demise was as close as any Cadillac showroom. By 1940, LaSalle was nearly identical in form, finish, body styles, and performance with Cadillac's low-line Series 62, and both were priced close to senior Buicks, which had its eye on the same market territory. For General Motors, it made no sense to continue LaSalle as an in-house rival to those better-established brands.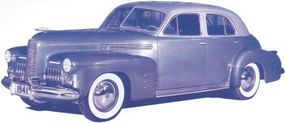 A more critical factor was the slow but steady upturn in demand for high-luxury cars that accompanied the halting general economic recovery in the years leading up to World War II. Taking due note, Cadillac made a strategic decision that would take it to the very top of its class: namely, to abandon the upper-medium field and return to nothing but all-out luxury.
This contrasted with Packard, whose continued over-reliance on cheaper models after the war cost the make its blue-chip image -- and eventually its life. As one executive said later, Packard just "handed the luxury market to Cadillac on a silver platter." So in the end, LaSalle fell victim to changing times. Today we'd say it was a niche model that lost its niche.
Yet before its demise, a 1941 LaSalle model was in the works (three-year lead times then being the Detroit norm, remember). This was a heavy facelift of the lovely 1940 design, itself virtually all-new.

Headlamps again nestled firmly within the fenders, and the slim horizontal-bar LaSalle radiator returned per recent tradition. But where the 1940 had curved front-fender "catwalk" aprons, the proposed 1941 was more blunted.
Prominent vertical slots again flanked the radiator, but were shorter in keeping with the industry trend to more horizontal "faces." The profile was pure period GM. Front-fender trailing edges were newly squared off in the manner of Cadillac's stylish Sixty Special.
Rear fenders wore fashionable skirts with a circular emblem where the hubcap would have shown had the wheels been exposed; some production 1941 Caddys had this too.
Chrome trim included triple strips at the base of all fenders and sparkling appliques along the vestigial running boards. GM Design chief Harley Earl believed this made for a brighter look on used-car lots that helped prop up resale values, which is why so many 1941 GM cars had a "shiny" look.
The 1941 LaSalle went as far as a pair of full-size Series 52 mockups, fastback and notchback, both four-doors. With the decision to axe the line, Cadillac substituted a new Series 61 of comparable size and price. A decade later, it was gone, too, as the division moved even more decisively toward luxury-class leadership.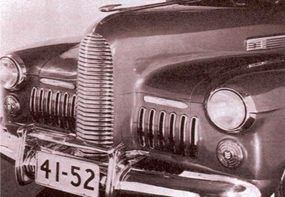 Despite its role as Cadillac's less-expensive companion, LaSalle was a great loss for many GM aficionados, who still thought of it fondly as years passed.
After all, designing the first 1927 LaSalle was what had brought Harley Earl to GM, where he set up the famed Art & Colour Studio as the industry's first in-house styling department. The 1934 LaSalles were far less prestigious than earlier models, but were remembered more for somewhat daring looks than middling price.
Even after all this, some GM designers and executives hoped for LaSalle's return as a specialized Cadillac. Continue on to the next page to learn more about the 1955 LaSalle II concept cars.
For more on concept cars and the production models they forecast, check out:
Future Cars

Consumer Guide auto show reports

Classic Cars