Conventional wisdom has long held that the Continental Mark II lasted only two years because Ford Motor Company lost $1,000 on each one sold. Actually, the Mark II was never intended to make money -- and that was why the 1958 Lincoln Mark II concept car never made it to showrooms.
The Continental Mark II was introduced in 1952 to answer requests for a modern successor to the classic first Continental line of 1940-1948, but it was also part of a bullish expansion plan. With Ford just returned from the financial brink and the company's future seemingly boundless, management decided to take on giant General Motors by going from two divisions to five: Ford, a separated Lincoln-Mercury, Continental, and one to handle a second medium-price make that ultimately emerged as Edsel.
Creation of the Mark II was assigned to a new Special Products Division (which later became Continental Division) under William Clay Ford, younger brother of company president Henry Ford II. Styling, chosen in 1953 from 13 different proposals, was the work of a stellar in-house team comprising John Reinhart (fresh from Packard), Gordon Buehrig (of Auburn-Cord-Duesenberg fame), and young Robert Thomas, with an assist from Thirties coachbuilding great Raymond H. Dietrich.
The result was an elegant close-coupled hardtop coupe, impeccably made and completely free of period fads. In fact, many still rank the Mark II design as one of Detroit's all-time best.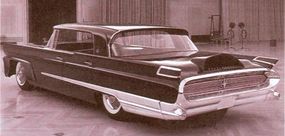 Appearing for 1956 on a 126-inch wheelbase, the Mark II was priced at $10,000 -- breathtaking for the day, but reasonable given an unusual amount of hand labor and high luxury content. Indeed, air conditioning was the sole option ($740). Everything else was standard, including full power equipment.
But grand though it was, the Mark II never really got its chance. By the time it arrived, the ebullient executives who conceived it had been replaced by sober accountant types for whom no car was sacred unless it made money.
Thus, soon after the Mark II was unveiled to critical acclaim, Ford decided to proceed with more profitable Lincoln-based models for 1958. The Mark II thus disappeared after 1957 with virtually no change save a horsepower increase to 300. Total production ended at 1,769.
To find out about changes that were in store for 1958, keep reading on the next page.
For more on concept cars and the production models they forecast, see:
Classic Cars

Consumer Guide auto show reports

Future Cars