Despite the promise inherent in an array of 1960s Chrysler concept cars, the DeSoto brand died quietly on November 18, 1960, after 32 mostly successful years. The reasons? Continuing Chrysler Corporation losses and high development costs for the new Valiant compact.
The last DeSotos -- a token pair of garish 1961 hardtops -- were little more than thinly disguised 1961 Chrysler Windsors and numbered a paltry 3,034 -- this from a make that had topped 125,000 units as recently as 1957.
But tucked away in the Highland Park styling studios was a concept car for a brand-new 1962 DeSoto embodying a radical new design philosophy.
Actually, all of Chrysler's full-size cars were to be completely redesigned for 1962 in a top-to-bottom corporate overhaul known as the "S-series" program. Only the Dodge and Plymouth members of this family made it to showrooms, and even they were drastically changed from original plans.
The S-series began taking shape in late 1958 under Chrysler design vice-president Virgil Exner. Its inspiration was his XNR show car, then in preparation, with similar long-hood/short-deck proportions and prominent blade-type fenderlines, elements slated for production premiere on the 1960 Valiant.
After initial work with 3/8-scale models, a full-size "theme" clay was completed by May 1959 and wheeled under the styling dome. A convertible mocked up as a DeSoto, it represented a striking new direction for Exner: smaller, dramatically altered in profile, completely finless, and with a truncated rear deck in complete contrast to contemporary long-tailed Ford and GM cars.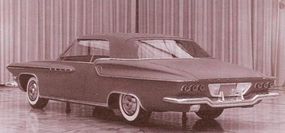 Fins had made Chrysler the industry's styling pacesetter in 1955-57, but Exner knew they were already passé. With the S-series, he reached for the next "Forward Look" -- literally -- by shifting the focus from rear to front.
Other features of that May mockup included vee'd bumpers, a slight beltline kickup just behind the doors, and a center vestigial fin (which survived only on the 1962 Plymouth). Also featured were curved side glass (pioneered by Chrysler on the 1957 Imperial), a steeply angled windshield, and long bladed fenders a la the XNR that stopped abruptly just before the B-pillar. Aft quarters wore a high-set concave rhomboid that tapered smoothly back to match rear-deck contour.
Information about the S-series versions specific to DeSoto and Chrysler can be found by continuing to the next page.
For more on concept cars and the production models they forecast, check out:
Future Cars

Consumer Guide auto show reports

Classic Cars