The story of the 1932 Plymouth PB Sport Roadster starts with Walter P. Chrysler who, like Charles W. Nash, learned a lot about the automobile business at General Motors. Nash was building cars under his own name in 1917, but Chrysler stopped along the way to save troubled Willys-Overland and Maxwell, so it wasn't until 1924 that Chrysler had a car with his name on it.
Chrysler realized that a one-make company couldn't make it in the long run, so despite the success of his Chryslers, he decided to bring out two new makes, the medium-price DeSoto and the low-price Plymouth. Dodge became available at the same time, so the Chrysler stable ended up with four separate marques.
While there was some confusion about the pecking order with Dodge and DeSoto, Plymouth's role was clear-cut from the beginning on July 7, 1928. The new make was named by company sales manager Joseph W. Frazer (of postwar Kaiser-Frazer fame) for Plymouth Rock, Massachusetts, but Frazer was quick to remind Chrysler that every farmer in America was familiar with Plymouth Binder Twine.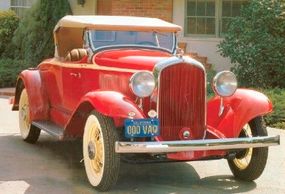 Derived from the four-cylinder Chrysler Model 52, Plymouth was priced just above Ford and Chevrolet. It was also slightly better trimmed, featured hydraulic brakes from day one, as well as full-pressure lubrication, aluminum alloy pistons, and an independent hand brake. For 1931, "Floating Power" was introduced -- engine mounts lined with heavy rubber to allow the engine to "float," keeping vibration in the passenger compartment to a minimum. Plymouth boasted that it now had "the smoothness of an eight and the economy of a four."
The 1932 Plymouth Model PB was introduced late, on April 3, 1932, and its production run lasted only eight months. Innovations included Plymouth's first one-piece front fenders, which were more rounded, and free standing headlights. A three-inch-longer 112-inch wheelbase resulted in a more "important" look, while a horsepower boost from 56 to 65 provided snappier performance despite a 100-pound weight increase. All in all, the PB was fully competitive in its field.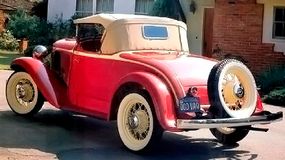 The 10-model lineup, ranging in price from $495 to $785, included no less than five open body styles: four-door phaeton, convertible coupe and sedan, two-seater Business­ Roadster, and the rakish rumble-seat Sport Roadster seen here. Its owners, Harry and Virginia DeMenge, of Chula Vista, California, note that it sold new for $595 and that only 2163 were built, and that its windshield was only 6 1/2 inches high at the center, so there was no need for a chop job!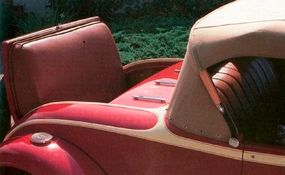 Plymouth tried to tap the youth market early by offering a "Collegiate Special" Sport Roadster, which for $40 extra the factory would paint in the buyer's school colors. The roadster is seen here in the colors for Mankato State University, the Minnesota school Virginia attended.
The 1932 was notable because it was the last of the four-cylinder Plymouths (until modern times) -- and the finest of them all.
For more information on cars, see:
Classic Cars

Consumer Guide New Car Search

Consumer Guide Used Car Search