Virgil Exner's design philosophy was proudly at work in the 1955 DeSoto Firedome convertible coupe. Had Exner become a designer of buildings rather than cars, he would have been an advocate of Louis Sullivan's belief that "form follows function."
Known for his innovative design work for Pontiac and the Raymond Loewy studio, Exner produced vehicles that showcased his approach to automotive design, "art made practical." One notable example of this philosophy is the 1955 "Forward Look" DeSoto.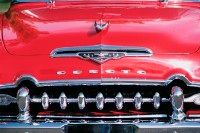 Named for explorer Hernando DeSoto, the cars were supposed to appeal to the owner's sense of adventure. But uninspired, boxy postwar cars became the antithesis of this spirit. With sales of all its cars plunging, Chrysler had one option: invest more than $200 million in designing, developing, and tooling models restyled under Exner's direction. The investment paid off with record sales in 1955.
This restored 1955 DeSoto Firedome is one of only 625 convertibles made that year in the marque's low-line series. Advertised as the car "styled for tomorrow," the new Firedome was lower, wider, and longer than before on a 126-inch wheelbase.
A 291-cubic-inch "hemi" V-8 engine with a two-barrel carburetor made 185 horsepower, enough to propel the Firedome to speeds up to 100 mph, all on regular gas. Even when resting, the Firedome appears to be in motion with its wraparound New Horizon windshield, aerodynamic hood ornament, and chrome-outlined contrasting color sweeps that were new for the year.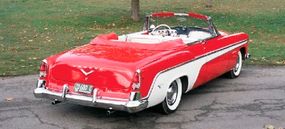 There was nothing shy about the Firedome, beginning with its grinning eight-toothed chrome grille at the end of its sloped, rounded nose. The red and white exterior of this car was one of 55 color combinations offered, each with a coordinated interior color scheme.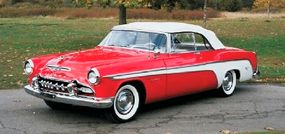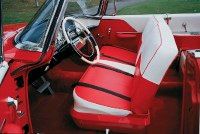 Enhancements to the interior were more than cosmetic. The gullwing-shaped dual-cockpit instrument panel included a glove compartment, radio, clock, courtesy lights, and the chrome-plated "Flite Control" shift lever for the PowerFlite transmission. Called the "finest completely automatic transmission available," the two-speed PowerFlite helped the driver navigate through traffic, rock the car out of snow or mud, brake down steep hills, and slip into tight parking spaces.
All five Series S-22 Firedome models were priced at less than $3,200 without optional equipment such as power steering, brakes, windows, and radio antenna; four-way power front seat; and air conditioning. But the striking "Forward Look" styling of our feature car was all it took to win first-in-class awards at two National DeSoto Club annual meetings.
For more information on cars, see:
Classic Cars

Consumer Guide New Car Search

Consumer Guide Used Car Search