Slide open the door -- any door -- of the 1988 Renault Megane concept car and you were bound to feel you were about to step into someone's small but elegantly appointed living room.
First of all, those wide doors slid all the way apart, crossing right in front of the fenders. As the doors separated, they reveal a pillarless entryway with four armchair-like seats beckoning you into the 1988 Renault Megane concept car.
May as well sit down. After all, as soon as the remote control requested the doors to open, the seat swiveled to the side in greeting. To refuse this invitation seemed almost impolite.
How about trying out the back compartment? Plenty of space in there -- but if it still wasn't enough, you could just ask the driver to touch the right button. Then watch as the frameless back window moved itself rearward more than a foot on concealed rails, transforming the basic notchback sedan into an even roomier hatchback with an all-new silhouette.
If you suddenly felt the urge to nap after sinking deeply into that plush seat, the back tilted down and, for your weary feet, recliners extended outward. After a relaxing nap, maybe you were ready to peek inside the refrigerated mini-bar, tucked conveniently into the rear center console.
If you were in the mood for quiet conversation, the front passenger could swivel that seat all the way around, to face rearward. Easy enough; the seatbelt traveled right along with it.
Meanwhile, the driver of this Renault Megane concept car was enjoying his or her own brand of comfort and convenience. Of course, the engine wouldn't even start until the remote-control unit had been plugged into the slot to the left of the dash.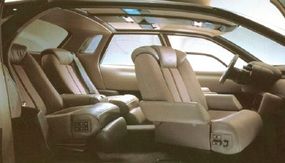 Mounted in the front console was an Atlas touch-screen, which took the place of many ordinary buttons and switches. Developed over a five-year period by Renault and TDF (Television Diffusion de France, a French television-broadcasting company), it offered navigational assistance as well as status checks.
Not bad for a Renault. But there were more delights on the way for the concept car enthusiast -- learn about them on the next page.
For more on concept cars and the production models they forecast, check out:
Future Cars

Consumer Guide auto show reports

Classic Cars