Symbolizing power and nobility since Roman times, the name of America's national bird has been used over the years on products ranging from pencils to potato chips -- and cars, of course. In fact, no fewer than six different automakers operated under the Eagle flag before World War I, four in the U.S. alone. Durant Motors produced its own Eagle in 1923-24, and Chevrolet used the name for its deluxe models of 1933. In the late '60s, Eagle was a natural choice for the competition cars built by the All-American Racers firm of driving legend Dan Gurney.
As a make, however, the only Eagle pertinent to this book is the one established by Chrysler Corporation from the remains of American Motors Corporation. Chrysler bought AMC from Renault of France in 1987, mainly to gain the lucrative Jeep franchise. But it also inherited the rights to use the Eagle name on cars, which had descended to AMC through a series of mergers and takeovers.
This line of succession began with Jeep-builder Willys and its Aero-Eagle passenger cars of 1952-54. Willys (and Jeep) were then bought by Kaiser (see entry), which evolved into the Kaiser-Jeep Corporation acquired by AMC in 1970. Later, AMC briefly sold a Jeep Eagle, a fancy CJ-7, then put the Eagle name on its new 1980 line of four-wheel-drive passenger cars.
Besides this name, Chrysler also inherited AMC's dealer body -- which posed a problem. Those dealers were used to selling cars as well as Jeeps, and most still needed cars to sustain their business despite rising Jeep sales. Accordingly, most AMC operations -- dealers included -- were rolled into a new third Chrysler division called Jeep-Eagle, with Eagle now a full-fledged car make. To avoid "cannibalizing" sales from Dodge and Chrysler-Plymouth, Eagle was to be an upscale brand aimed at the fast-growing import market, where it would presumably win customers from the likes of Toyota, Honda, and Nissan.
Amid grand predictions for early success, Jeep-Eagle opened its doors for model-year '88. There was no question of continuing the outmoded AMC Eagles (which died early in the model year), nor the small, problematic Renault Alliance and Encore that AMC had built in Kenosha since 1983. That left just two remnants of the former Renault regime: the midsize V-6 Premier and the compact four-cylinder Medallion. Both were front-drive Renault designs like Alliance/Encore, but had been rushed to the U.S. just before the Chrysler buyout in a last-ditch effort to reverse sagging AMC sales.
Medallion was a French import, basically a "federalized" Renault 21. Premier was a Canadian-built notchback based on the European Renault 30, complete with surprisingly dull styling by Giugiaro of Italy.
Both these cars became 1988 Eagles by the mere substitution of a new (and rather handsome) badge, but they sold no better as such, being conventional for Renaults but still too quirky for most Americans. Workmanship was also wanting, especially on the Medallion, which made a fast exit after 1989.
Premier lasted through 1992, but only because Renault insisted that Chrysler keep building the car after taking over AMC. Chrysler tried hard to satisfy this condition, but it was a tough job, and Premier production peaked in calendar '88 at some 59,000 units. Sales then went fast downhill despite the 1990 addition of a Dodge duplicate reviving the Monaco name.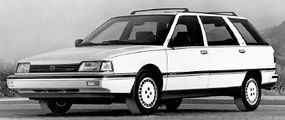 Drawing a tighter bead on "import intenders," Chrysler shifted Eagle to contemporary designs from Japanese partner Mitsubishi. All were "badge-engineered" front-drivers, and all but one were built in Japan -- namely the subcompact Summit sedans sold from 1989 (cloned from the Mitsubishi Mirage) and the short-lived early-'90s "mini-minivan" Summit wagon (based on Mitsu's Expo LRV).