Legends belong to the ages and are not easily regained, but that didn't stop two generations of entrepreuners from trying, as seen in the 1960s and 1970s Duesenberg concept cars.
The Duesenberg Model J was the mightiest of America's great 1930s Classics. Pioneer automotive journalist Ken Purdy once said it "will live as long as men worship beauty and power on wheels."
Still, there are those who can't resist trying to improve on a legend, particularly when they bear the same name. That, in a nutshell, explains why the only two attempts at a modern Duesenberg -- at least so far -- have been made by descendants of brothers Fred and August Duesenberg, creators of the immortal J.
The first attempt began in 1964, when Augie's son Fred A. "Fritz" Duesenberg resigned as chief engine engineer for the Labeco test-equipment company to join forces with one Milo N. Record, a sales and promotion specialist at Goodyear.
The impetus for their partnership was none other than Virgil Exner, who had just been ousted as styling chief at Chrysler. As Virgil Exner, Jr. later recounted in Special Interest Autos magazine: "My dad was [then] in semi-retirement. He'd done a number of designs for Esquire [in late 1963, interpreting] how some of the classics ... might look in the modern era."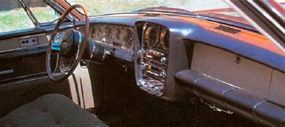 Of Exner's four "contemporary continuations," only an updated 1934 Packard went unbuilt. His modernized Mercer idea was translated into the one-off 1966 Mercer-Cobra, while his Stutz speculation led directly to the trio of Pontiac-based Stutz Blackhawk models that sold in tiny numbers from 1970 to the mid-1980s.
But, of course, it was Exner's latter-day Duesenberg that interested Fritz -- and Texas real-estate baron Fred J. McManis, Jr. With dreams of raising at least $5 million in start-up funds, Fritz formed a new Duesenberg Corporation in Indianapolis, where his father and uncle had built their towering machines 30 years before. Fritz installed himself as chairman and McManis as president.
Find information about the Duesenberg Model D concept car on the next page.
For more on concept cars and the production models they forecast, check out:
Classic Cars

Consumer Guide auto show reports

Future Cars