Although Willys-Overland cast its fate with Jeep after World War II, production of the 1940s Willys 6/66 concept car might have led to a very different outcome.
The days at the close of World War II were filled with the thrill of victory and were clouded in many American quarters by agonizing uncertainty over what to do next. One such place was Toledo, Ohio, the home of Willys-Overland, where confusion reigned about postwar civilian vehicles.
The confusion was actually a disagreement between chief executive officer Ward M. Canaday and Joseph Washington Frazer, the former sales chief of Chrysler Corporation who took over as W-O president in 1939.
Canaday had arrived six years before Frazer in the wake of Willys's Depression-forced bankruptcy, and had nursed the firm back to a semblance of health with a steady diet of low-priced small cars.
By the time Frazer joined up, the original funny-looking Willys 77 had become a more mature compact with "Slip-stream" design, a nicer interior, and an improved engine. Joe set about making it even better.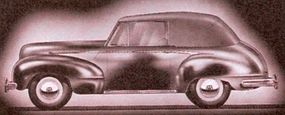 By the eve of Pearl Harbor, Toledo was selling the patriotically named Americar with attractive Ford-like styling and prices well under $1,000. Unfortunately, it didn't sell very many.
But Frazer gave Willys a far bigger shot in the financial arm when he almost singlehandedly landed a contract for building the Army's new general-purpose vehicle, the Jeep. With that, Willys reaped the literal fortunes of war with sales that jumped from $9 million in 1939 to $212 million in 1944.
By that time, the firm stood to profit in another way from a vast reservoir of GI affection for the rugged little "Willeeze" Jeep, whose heroic wartime exploits were already the stuff of legends.
Continuing this newfound success in the postwar world was the heart of the dispute between Frazer and Canaday. Joe wanted to pick up where the Americar left off with a wartime prototype called "6/66," which aimed at a light, roomy, and thrifty low-priced car in the same popular mold as Studebaker's 1939 Champion.
But though it looked fresh in a handsome new Brooks Stevens suit, the 6/66 owed much to the old Americar. Wheelbase, for example, was the same 104 inches, and the engine was all but unchanged: a 148.5-cubic-inch side-valve four churning out 66.5 modest horsepower.
Continue to the next page to see photos and learn more about the 1940s Willys 6/66 concept car.
For more on concept cars and the production models they forecast, check out:
Future Cars

Consumer Guide auto show reports

Classic Cars