The 1950s Willys concept cars were meant to create excitement for the declining Willys corporation. They couldn't prevent the company's demise in the U.S., but they did lead to unexpected success in South America.
The Aero-Willys wasn't America's first postwar compact, but it was arguably the best. Besides an impeccable pedigree-engineered by the distinguished Clyde Paton, formerly of Packard; styled by the inventive Phil Wright, creator of the beautiful 1933 Pierce Silver Arrow -- the Aero was roomier than Nash's pioneering Rambler, faster than the Henry J, as solid as Hudson's Jet, and better-Looking than any of them.
With all this, the debut 1952 Aeros sold quite well. Then Kaiser Motors Corporation bought Willys-Overland, and the Aero went to the same wall as the Kaiser. The writing on that wall was plain: a dwindling, demoralized dealer body; a doubtful public fearful of being stuck with orphans; an undeserved reputation for poor reliability. Thus did Willys build its final U.S. cars for 1955 (as did Kaiser).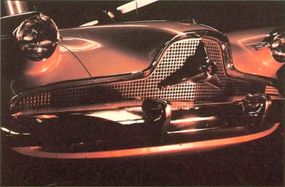 Like other failed automakers, Willys left behind many plans for future models. Happily, these have survived in photographs and written records. They've suggested that American buyers missed out on some of Willys's best ideas.
The first was an Aero station wagon that would have bowed for 1955 had Willys remained independent for 1956 as first projected by Kaiser. And it would have been a hardtop wagon without B-posts, not a pillared pseudo-hardtop like Chevy's new-for-1955 Nomad.
C-posts were gracefully curved, while the roof extended slightly past a roll-down tailgate window framed by slim D-pillars. Styling below the beltline was pure stock Aero. Had it come off, Willys would have beaten General Motors -- though maybe not American Motors -- to hardtop wagons, but the notion evidently went no further than a single 3/8-scale clay model.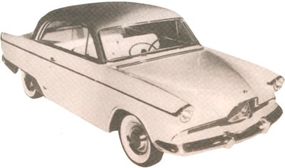 Slated to debut a bit later was an ultra-sleek Aero-based hardtop, a likely replacement for the original Eagle/Bermuda. Only one illustration of this design has been found. It shows projectile-like front fenders with deeply "frenched" headlamps, plus a low hood, lots of glass, and a well-formed overall shape. This car would have been as stunning in its day as Studebaker's 1953 "Loewy coupes," but it was a long-shot with no real hope.
The Willys were redesigned in order to create excitement and boost sales. Continue on to the next page to learn more about the new designs.
For more on concept cars and the production models they forecast, check out:
Future Cars

Consumer Guide auto show reports

Classic Cars