Chop Shops
Motorcycle lovers are living in a great era -- they have a wealth of choices from some of the best builders ever to work on a bike. A few bike shops from the good old days of the chopper are still around, but many more got their start in the '90s. Here's a small sample:
Orange County Choppers, founded by Paul Teutel Sr., is in New York. Teutel's business is the focus of the Discovery Channel series "American Chopper." His shop has produced custom bikes like the Liberty Chopper, a motorcycle containing pieces of copper from the Statue of Liberty. Many of his customers are corporations, like Microsoft and Coca-Cola.
Builder Jesse James is the man behind the famous West Coast Choppers shop. The shop occupies more than 250,000 square feet in Long Beach, California. You might think such a huge operation churns out hundreds of bikes each year, but according to their Web site, it has built only 200 custom choppers over the past decade. They pride themselves on painstaking detail and customizing every piece that goes on a bike.
Other famous shops and builders include Evil Spirit Engineering, L.A. County Choprods, Indian Larry and Stinger Custom Cycles. All of these shops gained fame after appearing on the television show "Biker Build Off," which pits two teams of builders against each other to create a new bike from scratch within a tight deadline. Bikes from these shops range from classic chopper styles to elaborate variations on the chopper theme.
­
There are hundreds of other custom bike shops in the United States. If you decide to have a shop custom-build your bike, it's important to look into their reputation. Try to talk to some other customers to find out what their experience was like, and see if any reviews pop up on the Internet.
Of course, you can always choose to build your own bike. There are plenty of Web sites out there that sell all the parts you'll need to design and build your own creation, from frame to engine. Building your own bike can be challenging, but it also means that your ride will have your own personal touch. Make sure you do plenty of research and that you assemble the pieces in a dry fitting at least once to be sure everything fits together properly -- you don't want to go through all the trouble of getting all your parts together only to find out at the last second that they don't fit.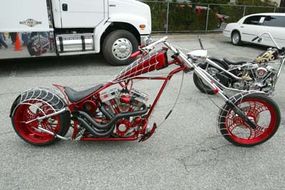 Choppers are all about individuality, yet they also seem to foster feelings of community within the biker world. Many chopper owners like to ride with large groups of other bikers. Some even consider riding a focal point of their lifestyle, setting aside time just to ride. The chopper appeals to riders' senses of nostalgia, danger, mystery and freedom, and that isn't likely to change anytime soon.
To learn more about choppers and related subjects, follow the links below.
Related HowStuffWorks Articles
More Great Links
Sources
"The History of Custom Choppers." Von Dutch Custom Cycles http://www.vondutchkustomcycles.com/custom-chopper-history.html

Choppers.com, http://www.choppers.com

Choppers101.com, http://www.choppers101.com/

Minichoppers.info, http://rawge.bravepages.com/minichoppers/home.htm

MotorcycleCruiser.com, http://www.motorcyclecruiser.com/

MotorcycleUSA.com,­ http://www.motorcycle-usa.com

RaleighChopper.info http://homepage.ntlworld.com/catfoodrob/choppers/history/history9.html

Remus, Timothy. "How to Build a Chopper." Wolfgang Publications, Inc. Stillwater, MN. 2001.