Chopper Odds and Ends
Bikers can customize practically every part of their chopper. There's a huge aftermarket that supplies bikers with dozens of choices for wires, cables, brake lines, calipers, wheels, tires, seats, gas tanks, exhaust pipes, fenders and headlights, among other components. Depending on how much you want to spend and how detail-oriented you are, you can handpick custom bolts and capscrews to give your bike a unique and personalized touch.
Customized gas tanks are particularly popular with chopper builders. Older bikes had gas tanks that builders mounted directly to the frame, sitting on top of the bike. Many modern choppers have tanks that are molded to fit with the lines of the frame, giving the bike a more unified, clean look. Fabricators make gas tanks from sheet metal, molding or beating it into the right shape. Motorcycle gas tanks usually only carry a few gallons of gas -- it's rare to find a tank that can hold more than seven gallons.
Bikers can also use sheet metal to make customized fenders for the wheels, though many choose to leave fenders off the front wheels entirely. Fenders need to allow for plenty of clearance from the tire, particularly if the bike has a rear suspension. The tire should clear the rear fender even if the bike bottoms out, meaning the suspension is compressed to its maximum amount.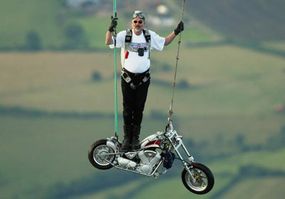 A good bike seat can help make a ride comfortable and stylish. A popular style on old choppers is the king and queen seat, which is designed for two riders. The seat for the first rider is set lower and in front of the seat for the second rider. Other bike seats include solo rider designs, gunfighter seats, tour seats, rumble seats and stinger seats. If you can't find a design that fits with your vision of the perfect bike, chances are there's someone out there who can make a customized seat just for you.
A quick Internet search will turn up dozens of shops where you can buy the perfect finishing touches for your bike. You can choose to make your bike as fancy as you like, or go with a bare-bones ride that does more with less. It's always a good idea to check your local motorcycle laws to find out what minimum requirements your ride must meet to be street legal -- are you required to have side mirrors? Must your bike have a speedometer? Be sure to check out all the requirements before you get too involved in your creation, or it may be banished to a corner of the garage.
In the next section, we'll take a look at some of the famous bike shops in the United States.