350Z Driving Position
Fundamental to how a car feels is its driving position, which to a large degree is dictated by seat placement. For this, the Nissan 350Z driving position is nearly at the center between the front and rear axles, thus helping provide a balanced vehicle perception.
As with many of the sports cars of its day, the 350Z's seats were designed to be comfortable, as well as provide the lateral support required during aggressive cornering. But the new Z's seats were unique in that the driver's seat was considerably different from the passenger's; both were optimized to suit rather different needs and expectations.
The driver's seat was designed to support the business and pleasure of driving. Like the passenger's seat, it was form-fitting and constructed with single-density urethane foam cushions over S-springs. And it was also similarly well-bolstered to aid comfort and reduce fatigue.
But the driver's seat differed in several significant ways: Its bottom cushion was firmer to support body weight, and longer to aid thigh support; it featured a mound in the center of the driver's legs to give femoral support for pedal operation; its seat-back cushion had larger wings that hugged the waist during lateral acceleration; and it was relieved below the shoulder area to avoid interfering with the arms during spirited shifting or cornering.
The standard driver's seat featured manual fore-aft, seatback-recline, and cushion-height adjustments. On Touring models, both the driver's and passenger's seats featured top-mounted power switches for fore-aft adjustment and seatback-recline angle, and the driver's seat got a manual seat-cushion-angle adjustment.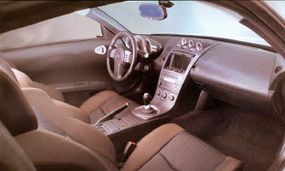 Located on the outer edge of the inboard bolsters for the seat bottoms, the switches were simple to find and use, especially at night, without fumbling around between the seat and door. Also, the controls for the passenger's seat were easy for the driver to reach and adjust as necessary, such as when the "guest" was entering the vehicle or to move the seat forward to access the storage area behind the seat.
The passenger's seatback could also be tilted forward by the driver by lifting a lever on the rear side of the seatback. Cloth-covered seats were standard with leather-trimmed seats available as part of a Touring model.
For more on Nissan Zs and other great sports cars, check out:
Nissan Z

Porsche Cars

Ferrari