The Z's role as symbolic flagship of Nissan is an important one, and the Nissan 350Z design reflected that role. The prior Z car, the 1990-1996 300ZX, was a technological showcase. It demonstrated that the corporation's engineering talent could build a car every bit the match of long-respected sports and GT cars, such as the Porsche 944 or the Corvette -- and then some.
But in so doing, the prior 300ZX lost the scent of the affordable-performance trail pioneered by the original Datsun 240Z.
In contrast, the 350Z's engineering was best described by the term "appropriate technology." There was no ultra-trick systems that might push its price too high. No Super HICAS 4-wheel steering, as on the 300ZX. No twin turbochargers. No active damping. No voice-recognition functions. No variable-induction manifold. And so on.
Although the new Z was right up to the minute in features and technology, there was nothing that was untrue to the original Z concept. After all, what good is it to build the best car in the world if only a few can afford to buy it?
To deliver everything customers expect of a high-quality, state-of-the-art sports car, a good foundation is crucial. Nissan called the unit-body structure of the 350Z a High Damping Body, in essence a dynamic spring with a stabilizing effect.
The body wasn't designed to achieve just high static-bending and torsional-rigidity numbers. The rigidity was designed as a dynamic system with the tires and suspension in place in order to improve driving stability and ride comfort. It resulted in a body with significantly higher torsional and bending stiffness than that of the previous 300ZX.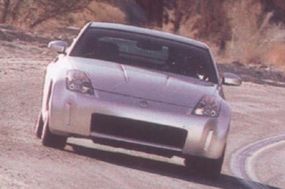 But the body wasn't just stiff for stiffness' sake. It had been analyzed not only on computers but also through multiple trial-and-error procedures using actual prototypes. This resulted in the placing of extra beef where it needed to be for strength, and the removal of excess fat where a weight reduction would contribute to performance and efficiency.
Key structural elements of the car's design included a double-panel floor, a double front bulkhead and large-section door sills. The double-panel floor gave the necessary foundation for future bodystyle variations. Roof rails and side panels were laser welded for a strong, accurate fit. And a rear strut brace, bolted and welded in place, restored any rigidity lost by adopting a rear hatchback and foregoing the traditional steel rear bulkhead of a notchback coupe bodystyle.
For more on Nissan Zs and other great sports cars, check out:
Nissan Z

Porsche Cars

Ferrari