2003 350Z Equipment and Prices
On January 8, 2002, at the 2002 North American International Auto Show in Detroit, Nissan took an unprecedented step and announced the 2003 350Z equipment and U.S. prices, more than half a year before its first appearance in dealerships. The base manufacturer suggested retail price for the new Z Coupe was set at a surprisingly affordable $26,269 (excluding the $540 destination and handling charges added to all models).
"The new Z, with its standard 280-plus-horsepower 3.5-liter V-6 engine, 4-wheel independent suspension and 6-speed manual transmission, offers $50,000 performance for under $30,000," said Jed Connelly, Senior Vice President, Nissan North America, Inc. "We're taking the unusual step of announcing full pricing, equipment availability and even colors, now out of respect for our buyers and Z enthusiasts who have waited so patiently for the Z."
The Enthusiast model with the 6-speed manual was priced at $28,249, while the automatic-transmission version was offered at $29,219. Standard fare on the Enthusiast Model included traction control, viscous limited-slip differential, Xenon headlamps, cruise control, aluminum pedals, HomeLink® universal transceiver, dual illuminated-visor vanity mirrors, and an auto-dimming rearview mirror.
The Performance model's price was set at $30,429. Standard equipment upgrades to this model above the Enthusiast model consisted of Vehicle Dynamics Control, 18-inch alloy wheels and tires, and a tire-pressure monitoring system.
Moving up another notch was the Touring model with the 5-speed automatic transmission, priced at $31,589. Standard equipment in addition to that of the Enthusiast model included a 5-speed automatic transmission with manual mode; 7-speaker Bose® audio system with 6-disc in-dash changer; leather-trimmed, heated, power-adjustable seating; and heated mirrors.
Another version of the Touring model, this one with the 6-speed manual transmission, was priced at $33,179, and included all of the automatic version's comfort items plus the upgrade hardware from the Performance model.
Finally, the Track model, the ultimate 350Z performance experience, was announced at $34,079. Standard Track model equipment included front and rear spoilers, vented Brembo high-performance brakes, and special 18-inch lightweight aluminum wheels, in addition to the upgrade equipment on the Enthusiast and Performance models.
Optionally available on select models were a DVD-based navigation system at $1,999 and seat-mounted side-impact air bags and side curtain air bags in combination for $569.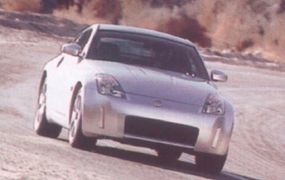 Thus, in the early-2000s landscape of sports and GT cars, the new Z was not cheap and not expensive. Just as it was among its peers of 1970, the new 350Z was priced in a "sweet spot" that made it an attractive prospect for buyers who might aspire to one of the more-expensive European brands, but couldn't afford the payments. Principle competitors were the BMW Z3, Honda S2000, and Porsche Boxster.
In addition to the "interceptor role," Nissan believed there was a strong market for a new Z among enthusiasts and buyers who loved travel, surrounding themselves with the latest electronics, and were active in sports. Research also indicated that professionals and workers in the technology fields were drawn to the Z's combination of design and performance. The main market for the Z was the U.S.
However, beyond the demographics, projections and focus groups lay a deeper truth. The real market for the 350Z was anybody who sought something special from the driving experience -- people who demanded their everyday transportation be anything but everyday; those who understoond the thrill of the road and the joy of interfacing with finely made machinery.
The Z car was indeed the emotional core of Nissan. It's a car, Nissan President Carlos Ghosn enthused, "that reflects people's values, needs and passions." The anticipation of adventure and driving enjoyment borne of its design led to rewarding satisfaction in its everlasting performance. Lust, then love.
For more on Nissan Zs and other great sports cars, check out:
Nissan Z

Porsche Cars

Ferrari