350Z Interior Design
It's been said the devil's in the details, and this was true in the Nissan 350Z interior design process. Sure the 350Z looked like a sports car. It packed the hardware to go, turn, and stop as a sports car should. But the essence of a really great machine is intangible. How does it engage the emotions? How does it interact with the senses?
The 350Z's designers were aware of this, and thus sought to create an interior that would dazzle its occupants with an interplay of surfaces, tasteful colors, unique shapes, and a wide array of textures. An aluminum-look door handle greeted driver and passenger as they gripped it to enter the cockpit. More aluminum brightened the overall look inside -- on the door pulls, pedals, steering-wheel spokes, shifter, and instrument-panel garnish.
Tom Semple, president of Nissan Design America during the 350Z's development, recalled the objectives. "One of the things that we really wanted was the authenticity of materials in the car and the way the whole thing was put together. We wanted the fit and finish of everything, the perceived quality to be the highest we could possibly get.
"The benchmark actually was the Volkswagen group, the Audi TT, in the sense that they used real parts. I would say they were the closest we had to a benchmark but we wanted to go past them. You'll see that quest for quality in aluminum details on the new Z's door pulls, steering wheel, shifter and handbrake lever. There's real leather on the shift knob, steering wheel, and handbrake lever."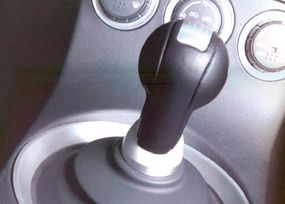 But beyond that, there was a deeper functional element to this thinking as well. Not only should, say, the aluminum-trimmed shifter look good, but it should feel right and connect drivers to the soul of the car when driving. Everything they touch should seem natural. Every point of interaction should give a predictable and satisfying response particularly during spirited driving.
For more on Nissan Zs and other great sports cars, check out:
Nissan Z

Porsche Cars

Ferrari