350Z Storage
Beyond driving and comfort factors, other practical considerations rounded out the thoughtful elements of the 350Z cabin, including a healthy amount of 350Z storage.
Zs have always been intended as sports cars for everyday use. True to this spirit, the 350Z was a hatchback -- as were all Z cars before it -- which added an extra dimension of cargo versatility and functionality.
Trunk capacity was VDA-rated at more than 200 liters (6.8 cubic feet), which was more generous than in many rivals. There were tie-down hooks for a net in the cargo area to keep smaller, loose items from rolling around during spirited driving. A large suitcase would easily fit inside the cargo area, as could two nine-inch golf bags and two sets of clubs.
The 350Z's cargo bay was subdivided into two areas by an integrated rear strut brace. It was a detail that wasn't created without considerable thought.
"To increase the structural rigidity of the body, the engineers wanted to do a trunk lid instead of a hatch," explained Chief Designer, Red Studio, Diane Allen. "It made sense because there is a suspension strut brace in the back, which could be unsightly and take away some cargo versatility.
"I remember when they were talking about putting a cut line under the sail panel, it just ruined the cleanliness and simplicity of the 300ZX retrospective. We argued that to honor Z-ness, the car must be a hatch because there is more functionality there than those little trunk lids offer.
"So we made a big plea to make the strut brace celebrate the performance of the car. Put a big Z badge there and then when you shut the hatch underneath the glass it's like a watch face. You see this beautiful strut housing and the Z emblem and you celebrate its performance."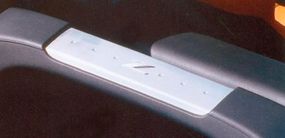 And so was created one of the most striking details of the 350Z's cabin.
But the debate that this structural element sparked was just one example of the emotion and spirit everyone involved brought to the 350Z.
"This was a passionate project for so many people," Allen said. "We had many groups coming down to look at it, to talk about it. The designers would stay until 8 or 10 p.m. every night debating about what constituted a Z. It was because they were all so impassioned with this product and what they were going to try to achieve with it."
For more on Nissan Zs and other great sports cars, check out:
Nissan Z

Porsche Cars

Ferrari