350Z Instruments and Electronics
As with the car's seating and controls, a great deal of thought went into the 350Z instruments and electronics, with the intent of further reinforcing the impression of convenience, sport, and high quality.
To this end, a trio of large-diameter analog gauges were perched atop the gently sloping dashboard, motorcycle-style. The location put the gauges as close as was feasible to the driver's normal line of sight of the road ahead.
The three pods formed a free-standing triplex meter consisting of a tachometer, speedometer/odometer, and a combined fuel/coolant-temperature gauge. The ensemble moved up and down with the steering column so the view of the gauges was never obstructed, regardless of the driver's size, driving position, or how steering-wheel tilt was adjusted.
Slightly larger than the gauges surrounding it, the 8000-rpm tachometer prominently displayed the Z's pulse. The 160-mph analog speedometer also featured digital readouts that allowed the driver to check the odometer and trip meter simultaneously.
Elegant red-and-silver-pointers and orange illumination put on a dramatic display. Switches for dash lighting and the drive computer flanked the sides of the triplex meter, fingertip-close to the steering wheel.
A lid in the center of the dashboard opened to reveal a storage compartment for small odds and ends. Ordering the optional DVD-based navigation system put a seven-inch LCD monitor in the compartment.
Flipped open, the lid shaded the screen from sunlight. The system displayed a traditional two-dimensional map or Nissan's three-dimensional Birdview with the perspective of a low-flying aircraft slightly behind and above the car. A single DVD disc covered the continental U.S. and Canada.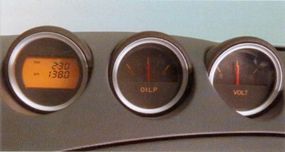 Atop the center dash stack were three bay gauges, consisting of an analog voltmeter, analog oil-pressure gauge, and a digital display for the drive computer. The drive-computer menus included cruising range, average fuel consumption, outside air temperature, average vehicle speed, distance to empty, a stopwatch function, and the readout for the available tire-pressure monitor.
Two switches on the right side of the triplex meter-cluster toggled the drive computer between menus. The three bay gauges, as with all other cabin lighting, were bathed in a soft orange hue. Their angled recesses were a subtle nod to the sugar-scoop cutouts of the 240Z's headlamps.
For more on Nissan Zs and other great sports cars, check out:
Nissan Z

Porsche Cars

Ferrari