NASCAR Sprint Cup Race Car Costs
­To figure out exactly how much a NASCAR Sprint Cup race car costs, let's start with the heart of the machine: the engine.
Even before the Car of Tomorrow, NASCAR officials established strict rules about the size and specifications of a legal racing engine. The engine can be no larger than 358 cubic inches (5,867 cubic centimeters), which limits the amount of horsepower that the engine can produce [source: Martin]. And when NASCAR teams race on the Daytona International Speedway or the Talladega Superspeedway -- the two biggest tracks in the Sprint Cup Series -- engines need to be fitted with a restrictor plate to cut airflow to the engine to put a cap on racing speeds.
Most top racing teams build their own engines from scratch. The total cost of these engines, which take more than 100 hours to build, is anywhere between $45,000 and $80,000 [source: Martin, Hendrick Motorsports]. At Hendrick Motosports, a racing shop that supports four different Sprint Cup teams, a 95-person engine department cranks out more than 600 engines a year [source: Hendrick Motorsports].
Now let's talk tires. NASCAR racing tires have very little in common with standard street tires. For one thing, NASCAR tires have no tread, which allows them to grip the road surface easier. Plus they're much wider than regular tires, about 11 inches (28 centimeters) across [source: Martin]. Each one is constructed by hand from layers and layers of rubberized material reinforced by rubber-coated steel cables called beads [source: Mackinnon]. Each tire costs between $350 and $450.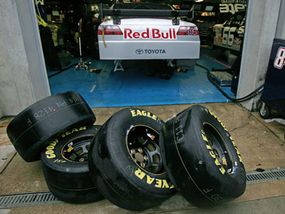 ­Interestingly, racing teams don't buy their tires. They lease them from Goodyear (the official tire supplier of NASCAR) on race day. Each team is allowed to lease 16 sets of four tires [source: Mackinnon]. That means that each NASCAR Sprint Cup team invests around $20,000 on tires alone for each race.
The chassis or body of a NASCAR race car is built for aerodynamics and safety, not comfort. There's only one seat (the driver's seat). There's no speedometer or gas gauge, no brake lights or headlights -- the doors don't even open [source: Martin]!
Before the introduction of the CoT, NASCAR race cars came in four only types: Ford Fusion, Cheverolet Impala SS, Dodge Charger and Toyota Camry. Even though these race car models had none of the perks of their street-legal cousins -- anti-lock brakes, air conditioning, fuel injection, front-wheel drive -- they still ran about $70,000 a piece.
With all those expensive parts, a pre-CoT NASCAR Sprint Cup race car costs between $125,000 and $150,000.
Exact figures on the price tag of the Car of Tomorrow are not available, although legendary team owner Jack Roush of Roush Fenway Racing commented in July 2008 that the CoT costs him 50 percent more to build and 50 percent more to maintain after a crash, but that the huge discount on research and development brings the total cost savings to 25 to 30 percent [source: Ryan].
So who pays for all of these speed machines? We'll explore that question in the next section.