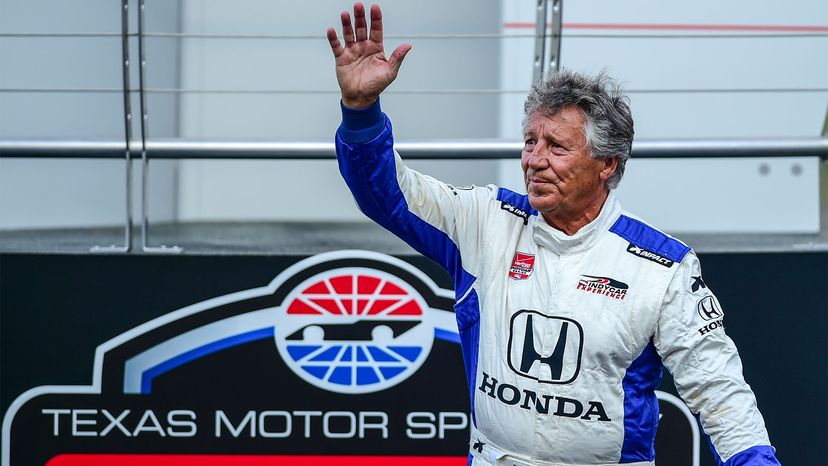 Mario Andretti is one of only two drivers to have won races in Formula One, Indy Car, the World Sportscar Championship and NASCAR.
Ken Murray/Icon Sportswire/Corbis/Icon Sportswire/Getty Images
Race car fans are a passionate bunch. And, as with any sport, fans of race cars love to discuss who is the greatest driver of all time. Whether Formula One or NASCAR, fans of racing hotly debate the merits of various drivers—their championships, rivalries and the trophies that got away. Here at Goliath, we're passionate about race car driving too and have some opinions of our own on who is the greatest driver in history. Here's our list of the top 10 race car drivers of all time.
10. Jeff Gordon
An underrated driver in our view, Jeff Gordon deserves inclusion on this list for both his wins and style. A passionate, no holds barred racer, Jeff Gordon is one of the premier NASCAR drivers of all time with 88 wins, four championship titles, and three Daytona 500 cups to his name. Many critics claim he needs a fifth NASCAR title to enter the conversation as one of the best drivers in history. However, Gordon likely would have more championships to his name if it weren't for constantly changing rules and gimmicky racing formats meant to draw in larger television audiences. Nevertheless, Jeff Gordon has been one of the most entertaining NASCAR drivers throughout his career and has a flare and competitiveness for racing that is all his own. He is a "champion" in every sense of the word.
9. Alain Prost
Alain Prost is the most famous French race car driver of all time. A four-time Formula One Champion, Prost has the second most F1 titles of all time. And, from 1987 until 2001, he held the record for most Grand Prix victories in history. This is impressive enough. However, Prost also enjoyed a number of classic rivalries with other drivers during the 1980s and 1990s, notably with Ayrton Senna and Nigel Mansell. In 1986, during the last race of the season, he beat Mansell to the Formula One championship. An instinctive driver, Prost was known for his smooth, relaxed style behind the wheel. Nicknamed "The Professor" for his intellectual approach to racing, in 1999 Prost received the World Sports Awards of the Century in the motorsport category.
8. A.J. Foyt
Known as "Super Tex" to friends and foes, A.J. Foyt is one of the best American race car drivers of all time—distinguished by the fact that he raced in several different genres of motorsport. This included Automobile Club Champ cars and midget cars. He also raced stock cars in NASCAR, and holds the USAC career wins record with 159 victories, and the American championship racing career wins record with 67 first place trophies. Additionally, Super Tex is the only driver to win the Indianapolis 500 (which he won four times), the Daytona 500, the 24 Hours of Daytona, and the 24 Hours of Le Mans. A.J. Foyt also won the International Race of Champions all-star racing series in 1976 and 1977. In NASCAR, he won the 1964 Firecracker 400 and the 1972 Daytona 500. This incredible run was punctuated by the fact that Super Tex survived three serious crashes during his career that left him with lifelong injuries. Not surprising that A.J. Foyt has been inducted into numerous motorsport Halls of Fame.
7. Jimmie Johnson
As a current driver, some people may feel it is premature to put Jimmie Johnson on this list. However, Johnson has accomplished plenty in his career so far. The American has already won the NASCAR Sprint Cup Series six times. He won his first cup series championship in 2006, followed by additional wins in 2007, 2008, 2009 and 2010. Jimmie Johnson is the only driver in NASCAR history to win five consecutive championships. In 2013, he secured his sixth championship. Jimmie Johnson is also a two-time Daytona 500 winner, with victories in 2006 and 2013. Between 2002 and 2015, Johnson amassed 72 wins, 292 Top 10 finishes and 33 pole positions. Jimmie Johnson also has the distinction of being the first race car driver to be named the Associated Press Male Athlete of the Year in 2009, and has won Driver of the Year five times, most recently in 2013. Forbes magazine named Johnson the Most Influential Athlete in 2011 and 2012. And Jimmie Johnson is the only driver to have qualified for the Chase series every single year since it started back in 2004. Not a bad record—with more to come.
6. Richard Petty
A pure NASCAR driver, Richard Petty, nicknamed "The King," raced in the Grand National era of the NASCAR Winston Cup Series. He won the NASCAR Championship a record seven times (tied for most wins with Dale Earnhardt), and won a record 200 races during his career. Richard Petty also won the Daytona 500 a record seven times, and won a record 10 consecutive races in the 1967 season. Statistically, Richard Petty is the most accomplished driver in the history of NASCAR, and he remains one of the most respected figures in motorsport. His other accomplishments included winning a record number of pole positions (127) and over 700 Top 10 finishes in his 1,184 starts, including 513 consecutive starts from 1971 to 1989. Richard Petty was a member of the inaugural class of the NASCAR Hall of Fame in 2010. A well-deserved honor.
5. Nigel Mansell
A legend in his native England, Nigel Mansell won both the Formula One World Championship in 1992 and the CART Indy Car World Series in 1993. He was the reigning F1 champion when he moved to CART, becoming the first person to win the CART title in his debut season, and making him the only person to hold both titles simultaneously. Pretty impressive. Equally impressive is the fact that Nigel Mansell's career in Formula One racing lasted 15 seasons, with his final two full seasons spent in the CART series. Mansell is seventh overall on the Formula One race winners list, and held the record for the most number of poles set in a single season, which was broken in 2011. Since his retirement, Nigel Mansell has been named one of the top five Formula One drivers of all time. In 2008, Entertainment and Sports Programming Network named him one of their top drivers ever. He has also been ranked number nine among the 50 greatest race car drivers of all time by the Times of London newspaper. In 2005, Nigel Mansell came out of retirement to race in the Grand Prix Masters series, and he won the championship. He was inducted to the International Motorsport Hall of Fame later that year.
4. Ayrton Senna
Brazilian race car legend Ayrton Senna da Silva won three Formula One world championships before he was killed on the track while leading the 1994 San Marino Grand Prix. During his career, Senna was one of the most dominant and successful Formula One drivers of the modern era. He is considered by many racing enthusiasts as the greatest driver of all time. Sadly, he is the most recent driver to have been killed in a Formula One World Championship event. Ayrton Senna made his Formula One debut in 1984, and won six Grand Prix races in his first three seasons as a driver. In 1988, he won all but one of the 16 Grand Prix and accomplished his first World Championship. He won his second and third championships in 1990 and 1991. His rivalry with Alain Prost during this period dominated global motorsport. From 1989 until 2006, Senna held the record for most pole positions, and he is the third most successful driver of all time in terms of race wins. R.I.P.
3. Dale Earnhardt
"The Intimidator," as Dale Earnhardt was known, represents, for many race car fans, the pinnacle of excellence. The premier NASCAR driver of his era, Dale Earnhardt started his legendary career in 1975 at the World 600, which was held at the Charlotte Motor Speedway as part of the Winston Cup Series (today the Sprint Cup Series). From there, Dale Earnhardt won a total of 76 Winston Cup races, including one Daytona 500 victory in 1998. He also earned seven NASCAR Winston Cup Championships—tied for the most of all time with Richard Petty. His aggressive, some claim dangerous, driving style earned him the nickname "The Intimidator." Sadly, Dale Earnhardt was killed on February 18, 2001, at the Daytona International Speedway, while competing in his beloved Daytona 500. Involved in a crash on the very last lap of the race, Earnhardt died of a skull fracture. He has since been inducted into numerous halls of fame, including the very first class of the NASCAR Hall of Fame. A fitting tribute to the man who helped to popularize the sport of NASCAR.
2. Michael Schumacher
The runner-up position goes to German race car driver Michael Schumacher. A seven-time Formula One World Champion, Michael Schumacher is regarded as one of the greatest Formula One drivers in history, and the most successful of the modern era. He was named Laureus World Sportsman of the Year twice, and holds many F1 records, including most championships, race victories, fastest laps, pole positions, and most races won in a single season. In 2002, Michael Schumacher became the only driver in F1 history to finish in the top three in every race of a season, and broke the record for most consecutive podium finishes. According to the official Formula One website, Michael Schumacher is "statistically the greatest driver the sport has ever seen." Sadly, in December 2013, Michael Schumacher suffered a serious head injury while skiing. Doctors put him in a medically induced coma, telling the world's media that he suffered a traumatic brain injury. He was in the coma for nearly seven months until June 2014. Michael Schumacher is now paralyzed and in a wheelchair, bringing a sad end to his illustrious driving career.
1. Mario Andretti
At number one sits Mario Andretti, the Italian-American race car legend who transcended motorsport. A household name all over the world, Mario Andretti is one of only two drivers to win races in Formula One, Indy Car, World Sportscar Championship and NASCAR. He also won races in midget cars and sprint cars. During his illustrious career, Mario Andretti won the 1978 Formula One World Championship and four Indy Car titles. To date, he remains the only driver ever to win the Indianapolis 500, the Daytona 500 and the Formula One World Championship, and the only driver to have won a race in the NASCAR Sprint Cup Series, Formula One, and an Indianapolis 500. Mario Andretti remains the last American to have won a Formula One race victory—back in 1978 at the Dutch Grand Prix.
If all these championships weren't enough, Mario Andretti is also the only person to be named United States Driver of the Year in three separate decades (1967, 1978 and 1984). He was also one of only three drivers to win races on road courses, paved ovals and dirt tracks in one season, a feat that he accomplished four different times. For all these feats, Mario Andretti is considered the definitive race car driver by most historians and critics. As an athlete, he dominated motorsport the way Michael Jordan dominated basketball and Wayne Gretzky dominated hockey. The name Mario Andretti is synonymous with excellence on the race track—any race track!