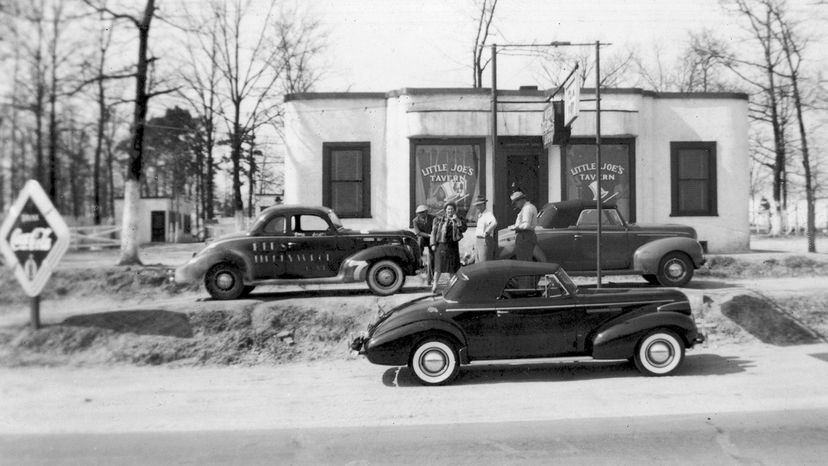 Things are looking up. You managed to extract 100 gallons (378.54 liters) of hooch from your illegal backwoods still, pour the 150-proof white lightning into jars and load them into the trunk of your car — all without being discovered by the law. Your illicit stash is tucked under blankets, just for good measure, and covered with an assortment of old coats. Now all you have to do is deliver it.
Unfortunately, that may be the most dangerous task of all. By making and delivering alcohol, you're continuing a roughly 20-year-old illegal tradition brought on by Prohibition. The 18th Amendment officially outlawed spirits, but it didn't dampen the desire of "spirited" entrepreneurs to fill the void. In fact, even the ratification of the 21st Amendment, which officially ended the Prohibition era, did little to curb illegal bootlegging.
So, while your black 1940 Ford Coupe may look stock (the same as any other purchased from a dealership), it's backed by a souped-up engine so powerful it could give any revenuer a run for the money. And so could you, now that you've spent years honing your skills on some of America's most challenging roadways.
As you speed through the Appalachian foothills under the cover of nightfall, navigating switchback turns and avoiding wildlife that's wandered onto the tree-lined roads, you can't help but smile. Instead of a stock V-8 under the hood, your car has the most powerful V-8 available at the time — an ambulance engine. Even at breakneck speeds, the car's tight suspension keeps your load of flammable liquid stable. And you know these roads like the back of your hand, so much so that you could turn off the car's headlamps and still get to your destination [source: AutoFoundry].
In fact, you've even raced some of your fellow bootleggers on these treacherous paths, vying to see who can drive away with bragging rights. You all share the same competitive drive, one that's fueled by the souped-up vehicles that could show off your abilities. From races on public highways to dirt tracks carved into pastures, stock car racing began to take shape. Born of moonshine runners, it would eventually grow into one of today's most popular racing circuits: NASCAR.
In 1947, one of the emerging racing sport's most influential drivers, Big Bill France, spearheaded a meeting with fellow drivers, mechanics and owners to standardize some racing rules. Out of this meeting, the National Association for Stock Car Auto Racing (NASCAR) was formed. A mere two months later, on Feb. 15, 1948, NASCAR held its first official race on the sands of a Daytona, Florida, beach. Most — perhaps all — of the drivers were involved in the moonshine trade. One of them, Red Byron, won the inaugural race. The next week, NASCAR became incorporated, and France was named NASCAR's first leader, a post he would eventually hand down to his son [source: Levinson].
Two years later, on Sept. 4, 1950, NASCAR held its first 500-mile (805-kilometer) race, the Southern 500. From there, NASCAR only continued to grow. By 1989, every NASCAR race was televised, lucrative sponsor partnerships had been formed and the drivers — whose predecessors were once considered outlaws — even began making regular appearances at the White House [source: Danner].
Now, with millions of fans (in 2016, the Daytona 500 had an average TV viewership of 11.4 million viewers), NASCAR is an integral part of American motorsports — moonshine not required [source: Statista].