The history of jeep began with World War II, and it is safe to say that no other motor vehicle has ever inspired the kind of respect and affection accorded the World War II jeep. There were many advantages to the jeep. Being small and compact, it could be transported to battle areas by plane or glider, dropped by parachute, or floated across a river.
The jeep became as familiar to the rich and famous as it was to the ordinary Joe. Madame Chiang Kai-shek toured Cairo in a jeep, with General Claire Chennault as her chauffeur. Queen Elizabeth used a jeep in her wartime visit to Northern Ireland. President Franklin D. Roosevelt rode in a jeep as he reviewed the troops in Morocco. Prime Minister Winston Churchill sat in a jeep as he watched the historic landings at Normandy. General George S. Patton chose a jeep instead of a staff car for his trip to Fatale, Morocco, when he accepted the surrender of the French resident general there.
Of course Hollywood got into the act, and so did Tin Pan Alley. Songs -- all of them eminently forgettable, unfortunately -- included such gems as "A Jerk in a Jeep" and "I'll Be Jeeping Back to You." Meanwhile, on the silver screen the world was treated to Four Jills In a Jeep, a piece of fluff starring Kay Francis, Martha Raye, Carole Landis, and Mitzi Mayfair. The plot was loosely based upon a 1943 USO tour undertaken by the same four ladies.
It all added up to unprecedented recognition for an inanimate yet lovable object, one that has been described by Lyman Nash as "short, squat, and ugly as sin. . . an inelegant, incredible, and virtually indestructible little vehicle, not much bigger than a fair-sized doghouse." Somehow this remarkable machine garnered trust, demanded respect, and bounced its way into the hearts and souls of all who came into contact with it.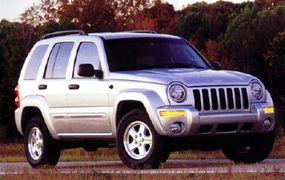 The articles below chronicle the history of jeep, from its first design for World War II battle to the jeep's modern technology in 2002. Follow these links and take an amazing ride through jeep history.