If you're into off-roading -- and we mean really into it -- then Daimler-Chrysler unveiled the vehicle of your dreams in 2005. It's a Jeep with more horsepower, more climbing ability and more steering options than any car ever made. With two HEMI engines and the ability to turn itself completely around in place, the Jeep Hurricane concept car is truly one of a kind.
In this article, we'll take a look at the amazing things the Jeep Hurricane can do, and we'll find out what this concept car means for the future of production Jeeps.
The Jeep Hurricane is meant to be an extreme vehicle. It's certainly not intended for the average driver. According to Trevor Creed, Senior Vice President of Chrysler Group Design, "Jeep Hurricane is simply the most maneuverable, most capable and most powerful 4x4 ever built."
This vehicle is the ultimate proof of Jeep's absolute dominance off-road ... Watching Hurricane in action, it's hard not to imagine all the potential applications -- for the military, for extreme off-roading and more. The fact is, we will do whatever it takes to ensure that there's only one SUV at the top of the mountain.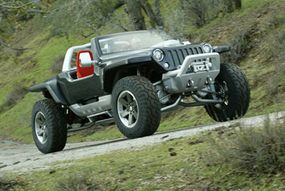 With more than 14 inches (36 cm) of ground clearance and 20 inches (51 cm) of suspension travel, the Hurricane is in a class of its own when it comes to off-road capability. As Zetsche said at the 2005 Detroit Auto Show, "To put that into perspective, the clearance is 5 inches higher and the articulation is almost triple that of our most off-road-capable Jeep production vehicle."
The four-wheel independent short/long-arm suspension system is dampened by coilover shocks with remote reservoirs (this allows for longer travel in the shock). The 20-inch wheels hold specially designed off-roading tires that are 37 inches tall. Chrysler reports an approach angle of 64 degrees and a departure angle of 86.7 degrees.
The Hurricane is more than just a Super Jeep. It also represents an attempt by Chrysler's engineers to combine excess (it does have two HEMI engines) with responsibility (new technology allows the Hurricane to operate on as few as four cylinders).
In the next section, we'll find out what makes the Jeep Hurricane so extreme.