In 1947, NASCAR was first formed into a private corporation. Visionary Bill France saw the potential of a unified, organized racing series and he took a bold, decisive step by announcing the formation of the National Champ­ionship Stock Car Circuit (NCSCC). This new touring series for stock car jockeys was complete with a standard set of rules, points standings and prize money. By the end of the 1947 season, attend­ance at most of the NCSCC races exceeded capacity and France knew it was time for stock car racing to expand beyond its Southern roots. He held a big NCSCC convention in Daytona Beach, appointing technical and competition committees within all factions -- drivers, mechanics, and ­owners. Louis Jerome Vogt, ace-mechanic of the era, coined the name for the new organization: National Association for Stock Car Auto Racing. You can learn about these events and more in the following article, from season highlights to the year's champion, all packed with plenty of photos.
January, 1947
Bill France announces he will direct a series of stock car races under the National Championship Stock Car Circuit banner in 1947. France's slogan for the new touring series is "NCSCC: Where The Fastest That Run, Run The Fastest."
January 26, 1947
Red Byron captures the inaugural NCSCC event, billed as the "Battle of Champions," on the Beach-Road course at Daytona.
May 18, 1947
Fonty Flock wins the inaugural event at North Wilkesboro (N.C.) Speedway. The race is a smashing success, with over 10,000 spectators in attendance.
June 15, 1947
Bob Flock drives his Ford to victory in the NCSCC event at Greensboro, N.C. Ed Samples, the recognized 1946 stock car racing champion, rolls three times but ­continues in the race.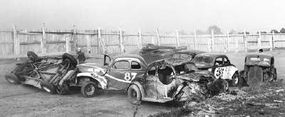 Crashes were ­plentiful in the action-packed 1947 NCSCC events.The ­drivers often snagged bumpers and tipped over, triggeringmassive pileups. Safety paraphernalia was virtuallynonexistent. Nearly a dozen drivers required hospitalizationduring
June 29, 1947
Jimmie Lewallen slips past Fonty Flock on the final lap to win the 80-lap NCSCC race at High Point, N.C.
August 10, 1947
Bob Flock leads most of the way and wins the 200-mile marathon race at Langhorne Speed­way's circular one-mile track in Pennsylvania. Forty-five cars start the race, but only 19 finish.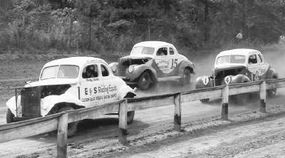 Fonty Flock
, who hadn't raced since being severely injured inthe ­summer of 1941, returned to stock car racing in 1947.Here, Flock hugs the inside rail and leads #15 Bill Snowdenand #14, big ­brother, Bob Flock.
August 17, 1947
Bob Flock starts last, charges to the lead in the opening lap, and sprints to an overwhelming victory in the 100-mile race at Daytona Beach.
September 7, 1947
The new track in Martinsville, Va., opens to a large crowd. Red Byron finishes first in a 50-lap event that is marred by deplorable dust conditions.
September 14, 1947
A huge crowd of 20,000 turns out for the 160-lap race at North Wilkesboro. Marshall Teague wins as more than 1000 carloads of racing fans are turned away due to lack of parking space.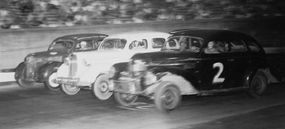 Bowman Gray Stadium in Winston-Salem, N.C., opened in June1947 with a variety of stock car races. The tiny 1/4-mile trackfeatured narrow dimensions, but the drivers still ranthree-abreast. Bowman Gray ­hosted weekly events, butdidn't stage any NCSCC championship meets in 1947.
October 17, 1947
Bob Flock falls out of ­contention for the championship when he fractures his back in a spill at Spartanburg, S.C., and is forced to miss the rest of the season.
December 12, 1947
Red Byron gallops to victory in the 1947 NCSCC finale at Jacksonville, Fla. Fonty Flock, winner of seven races during the season, is declared the champion. Flock finishes 235 points ahead of two-time winner Ed Samples. Nine-time winner Red Byron finishes third in points.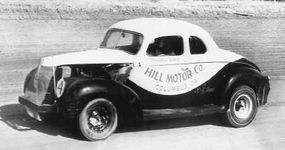 Marshall Teague drives his Hill Motor Co. #4 Ford around atrack without a protective helmet. Teague was injured in aspill at North Wilkesboro and missed several races. He stillaccumulated enough points to rank 10th in the championshipchase at the end of the 1947 NCSCC season.
December 14, 1947
Bill France meets with 35 others who share a concern for the future of stock car racing at the Streamline Hotel in Daytona Beach. A set of rules is established and Red Vogt coins the name National Asso­ciation for Stock Car Auto Racing, which becomes NASCAR. Fonty Flock, winner of the NCSCC title, will be listed as "1947 NASCAR Champion" in all early season press releases.
For more information on all things NASCAR, see:
NASCAR Season Recaps

NASCAR Results

NASCAR Drivers

How the Daytona 500 Works