Revolution is more than just the name of Harley-Davidson's liquid-cooled V-twin; it's the concept behind a whole breed of motorcycle -- the 2002 Harley-Davidson VRSCA V-Rod.
For years, rumors of a "high-tech" Harley circulated like Big Foot sightings at an annual tabloid convention. Liquid cooling? Double overhead cams? Four valves per cylinder? Preposterous! Yet despite the obvious contradiction in design principles, this rumor turned out to be true.
Though the V-Rod represents a completely different kind of animal in the Harley-Davidson lineup, its heart comes from an established company source: the racetrack. Harley's VR 1000, which entered the racing scene back in 1994, was powered by a liquid-cooled, double-overhead-cam, 60-degree V-twin very similar to that found in today's radical V-Rod.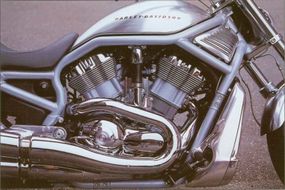 Without question, specifications of the Revolution motor are indeed high-tech, yet remain grounded in Harley tradition. A V-twin configuration was a given, though the spread between the cylinders was increased from the usual 45 degrees to a smoother-running 60 degrees. Both connecting rods still share the same crankshaft journal, but the crank itself is now a stronger one-piece forged unit rather than Harley's usual three-piece design.
The traditional overhead-valve layout gives way to more efficient double overhead cams activating four valves per cylinder. Electronic sequential-port fuel injection feeds the hungry pistons, with spark provided by plug-top ignition coils. Liquid cooling-another departure from the Harley norm-promotes more consistent operating temperatures, and the front-mounted radiator carries artfully fashioned scoops on its outside edges to assist airflow. A 2-into-l-into-2 exhaust system culminates in a pair of large slash-cut mufflers.

A vastly oversquare 3.94-inch bore and 2.84-inch stroke (other Harley motors are undersquare) result in a displacement of 69.0 cubic inches, or 1130 ccs-hardly a large motor by Harley standards. Nevertheless, working on lofty 11.3:1 compression, the Revolution belts out an impressive 115 horsepower at 8,250 rpm -- more than any other street motorcycle the company has ever produced. A gear primary drive (rather than the traditional double- or triple-row chain) transfers power to the five-speed transmission through a hydraulically actuated clutch -- the first in Harley history.
Designated VRSCA, the 2002 Harley-Davidson VRSCA V-Rod breaks new ground in other ways as well. While the long, low silhouette is certainly not a departure, the 38-degree fork angle is steeper than that of any other Harley, and contributes to a lengthy 67.5-inch wheelbase-also the greatest of any bike in the line.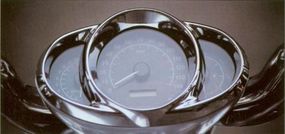 A silver perimeter frame wraps around the motor, underlining the anodized aluminum body panels rather than being hidden by them. A special hydroform process is used to produce the extreme curves seen in the upper frame rails, while a lower bolt-on section holds the powertrain.
A twin-filament headlight resides in an ovoid housing that extends up into a pod-like instrument panel carrying a speedometer, tachometer, and fuel gauge. The "fuel tank" isn't a tank at all; it's simply a cover that hides the downdraft intake system, the real tank being located beneath the seat for a lower center of gravity. Out back, a "clipped" rear fender reminiscent of that used on the Deuce covers a fat 180-section 18-inch tire, versus a 120-section 19-incher in front.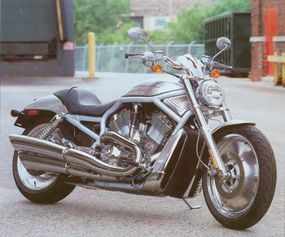 Solid front and rear wheels are fitted to only two Harley-Davidson models: the Fat Boy and the V-Rod. But they are of decidedly different design. Where the Fat Boy's have a "three-piece" look-with the rims riveted to cast disc hubs-the V-Rod's appear to be turned from a solid block of aluminum. Four-piston calipers grip dual floating rotors in front, a single rotor in the rear. Final drive is by Harley's typical cogged belt.
Even those familiar with the rumors of a high-tech Harley were stunned by the design sophistication of the company's first "performance custom." And the V-Rod stands in evidence that as Harley-Davidson enters its second century, there are many more surprises left to come.