1931 Ford Trucks
Ford continued to offer sleek, updated styling on its 1931 trucks. Deluxe-trim models were popular this year as well.
A restored 1931 Model A postal truck carries its original California license number. Note the sliding side door, which has been left open.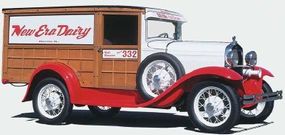 1931 Ford Model A Deluxe Delivery
This 1931 Ford Model A Deluxe Delivery was restored to resemble a New Era Dairy truck the owner's father had driven in Herrin, Illinois, after World War II.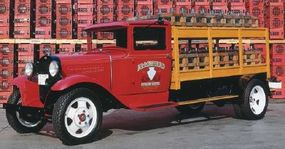 This restored 1931 Model AA carries the weight of 72 five-gallon glass bottles. It's mounted on the longer wheelbase (157 inch) AA chassis that joined the standard 1311/2-inch AA chassis for 1930. The long-wheelbase version could carry bodies up to 12 feet in length; previously, the standard chassis required aftermarket frame extensions for bodies over nine feet.
Ford introduced a new V-8 engine in 1932. Read about the Ford trucks of 1932 in the next section.
Want more information about Ford trucks? Try these:
1990-1999 Ford Trucks

1960-1969 Ford Trucks

1950-1959 Ford Trucks

1940-1949 Ford Trucks

Consumer Guide Auto New Large Pickup Truck Prices and Reviews

Consumer Guide Auto New Compact Pickup Truck Prices and Reviews

Consumer Guide Auto Truck Buying Guides

Consumer Guide Auto Used Compact Pickup Truck Prices and Reviews

Consumer Guide Auto Used Large Pickup Truck Prices and Reviews