Though never a major player in the truck business, Stewart offered a wide variety of novel trucks, including the 1935-1936 Stewart panel and dump truck.
Stewart was a small regional maker of "assembled" light- and medium-duty trucks. It had the distinction of building its own high-quality bodies. Stewart never competed with volume makers like Ford or Chevrolet, or even with such medium-size rivals as Reo and International. But did pose some competition to low-production builders such as Federal, Brockway, and Diamond T.
By 1935, seeking low-end sales in a depressed market, Stewart brought out a 1/2-ton line called the Buddy, which cost $495 for the bare chassis and $200-$300 more for finished pickups and panels. Hydraulic brakes and all-steel construction were featured, but the Buddy's four-cylinder Waukesha engine was low on performance, if high on fuel economy.
For those who needed more power and speed, Stewart offered a larger line of 1-ton chassis for a wide variety of bodies, including what would become Stewart panels and Stewart dump trucks. The Waukesha L-head six in these trucks had plenty of power to handle normal highway speeds, and the 1-tonners shared clean lines with their handsome Buddy-based little brother.
Stewart built good trucks, but the times were against it. Registrations tapered off to 1,280 in 1936 and to 1,148 in 1937. The company's best year, 1930, had only seen 2,315 Stewarts registered.
Even adding the figures from its Fort Erie, Ontario, assembly plant during part of the 1930s, plus export sales (which virtually dried up), Stewart simply lacked the volume or dealer base to become a major player.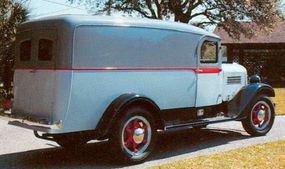 Registrations averaged only about 800 units per year in the depths of the Depression, and the sharp business downturn of 1938 saw only 390 registered that year, followed by 70 for 1939.
At that point, Stewart president T.R. Lippard defected to Federal, and new management took over, concentrating on heavy-duty models. Few were sold, and Stewart was history by 1942.