Despite its compact dimensions -- maybe because of them -- the 1960-1963 Ford Falcon Ranchero was a hit with consumers looking for a sharp little hauler.
When Ford released its compact Ford Falcon line of cars in 1960, it immediately supplied an open-bed pickup body and called it the Ford Falcon Ranchero. At the same time, it began dropping this body style and name from its lineup of full-size cars.
The 1960-1963 Ford Falcon Ranchero was more practical than its diminutive looks suggested. Its 800-pound payload was 100 pounds more than that of the much larger Chevrolet El Camino. Power wasn't in the V-8 El Camino's class, however: the Falcon's sole engine at first was a 144-cid six rated at 90 bhp.
Although the Ford Falcon was anything but luxurious, the Ranchero maintained its air of civilized practicality, with a concave bright-metal grille, chrome bumpers, and bright frames around the windshield and backlight. Whitewall tires, full wheel covers, and the bright cargo-bed accents of the deluxe trim package added to the effect.
Two-tone paint jobs were available, the second color limited to the "A" pillars and roof; "B" pillars were two-toned starting in 1961. Aside from a new convex grille, the 1961 Ford Ranchero differed little in appearance from the 1960 model. Under the hood, however, buyers could opt for a larger, 170-cid six producing 101 bhp.
The compact Falcon Ranchero's 800-pound payload capacity was higher than the larger Chevrolet El Camino's, though the Chevy had more power.
Sales hovered around the 21,000 mark in 1960, 1961, and 1962. The 1962 Ranchero -- like the 1962 Ford Falcon car -- earned a facelift with bolder, vertical-bar grillework and a dummy scoop in a hood bulge.
In all three years of the 1960-1963 Ford Falcon Ranchero, the deluxe trim package provided bright metal exterior accents plus such goodies as a white steering wheel, chrome horn ring, dome-light door switch, and a choice of black/white or red/white all-vinyl upholstery. Actually, the standard upholstery, a brown vinyl stamped with a western steer-head pattern, was quite attractive in its own right.
For the final year for this Falcon styling generation, the 1963 Ford Ranchero sported another new grille. More importantly, if was now available with a V-8: Ford's fine 260-cid small-block with 164 bhp. Production for 1963 slipped to 18,533.
Collectible Pluses of the 1960-1963 Ford Falcon Ranchero
Abundant parts, and you can even cobble some sheetmetal from Mustangs

Great performance from the 1963 V-8

Well built, luxurious for a truck
Collectible Minuses of the 1960-1963 Ford Falcon Ranchero
Collectible Minuses of the 1960-1963 Ford FalconRanchero
The 144-cid six is underpowered

A serious ruster: check floors, fenders, rocker panels

Going nowhere on the collectible market, but maybe that's a plus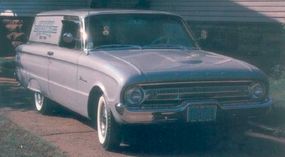 Companion to the Falcon Ranchero, the Falcon Sedan Delivery shared the Falcon station wagon's body but got blanked-out rear-side windows.
For more great articles and pictures on new and classic trucks, see:
Consumer Guide Auto Reviews and Prices