The 1938-1939 Ford panel and pickup truck bore little resemblance to the Ford trucks that had come before. They were treated to a thorough restyle in 1938, and carried over unchanged into 1939.
Though the antiquated chassis was little changed, half-tonners were reskinned, with an oval barrel-shaped grille that resembled certain Chrysler products. A more spacious cab, larger cargo box, and longer car-like fenders were part of the1938-1939 Ford panel and pickup truck revamp.
The pretty 1938 Ford pickup was the cheapest truck in the line at $590. A 1939 can be distinguished from a 1938 by its smaller V-8 insignia on hubcaps, crinkle-finish interior door panels, and black spare-tire hubcap; the 1938's was stainless steel.
The big news in 1939 was only important because so much time had gone by since it should have been adopted -- hydraulic brakes, which answered longstanding criticism of the Ford trucks' stopping ability.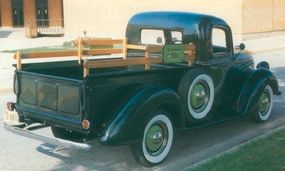 Henry Ford had resisted a change from the tried-but-untrue mechanical brakes for 11 years -- ever since Plymouth had introduced them in the low-priced field. Work on the new brakes had begun in 1938, but Henry suffered a stroke soon afterward and would play a diminished role in product development.
Both the 60-horsepower and 85-horsepower V-8 engines were offered as usual; and a 95-horsepower V-8 became available in the 1939 Ford panel and pickup on special order.
Options for the 1938-1939 Ford panel and pickup truck included an oil-bath air cleaner, oil filter, oversize tires, rear bumper, heavy-duty clutch, road lamps, governor, and sliding rear window. The newly-available hot water heater was far more efficient than the old fresh air heater.
Many years had passed since Henry declared you could have any color as long as it was black: the 1939 Ford panel and pickup trucks could be ordered in vermilion, black, blue, Dartmouth green with a cream stripe, maroon, Gull gray, and Folkstone (darker) gray with a red stripe.