The 1941-1948 Ford Super DeLuxes were forged out of a bewildering and nearly cataclysmic period in Ford history. With Harry Bennett holding absolute dictatorial control over employee relations in the late 1930s, the human side of the company entered the dark ages.
Meanwhile, the tough-fisted Ford production czar, Charlie Sorensen, turned more and more of his attention to defense business. And Edsel Ford spent an increasing amount of time abroad, resigned to his father's hard nose and closed mind regarding mechanical improvements and company management.
After his 75th birthday in 1938, Henry retreated further into his putterings at his Fair Lane estate and the Henry Ford Museum. He had suffered a slight stroke that year, but he recovered quickly and still ran the show. However, after the 1932 debut of the V-8 -- Henry's last significant contribution -- he devoted little attention to shaping the Fords of the future.
From 1932-1948, all Fords were basically the same at heart: beam front axle, transverse springs, torque-tube drive, flathead V-8. Only under great pressure did Henry concede to hydraulic brakes for 1939 and the option of a six-cylinder engine for 1941.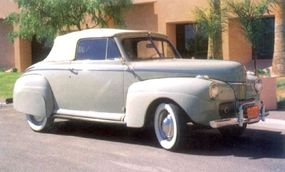 From a styling standpoint, however, Edsel and his crew had free reign. Beginning with the 1936 Lincoln-Zephyr, Ford was the industry's undisputed design leader. A new styling section, headed by E.T. "Bob" Gregorie, turned out increasingly handsome aerodynamic automobiles, which had their finest hour in the 1939-1940 Mercury, 1940 Ford, and 1940 Lincoln Continental.
But the winds of change were blowing along with the winds of war. Thus, while retaining traditional Ford underpinnings, the 1941 model would appear far different than its air-cheating predecessors.
The marketplace had forced Ford to change; 1937 was the last year Ford had outsold Chevrolet (until 1946). From then on, General Motors' darling reigned as the industry's sales champ, with Plymouth rapidly closing in on Ford. And not only was Ford lacking in product innovation, its marketing efforts and dealer organization needed modernizing as well. Indeed, when Edsel's superb sales manager. Jack Davis, confronted Bennett crony Harry Mack in 1939, Davis was exiled to California. Edsel thus suffered his final defeat in his tragic fight against the ruthless Bennett.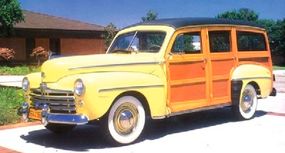 Such counterproductive moves all came back to haunt the sales charts. The company went into a period of unbelievable corporate losses through management practices that were about as businesslike as those of some mythical accounting firm in a Charles Dickens novel. Henry Ford had more money than God, so he could afford his own nonsense -- but not forever.
In fact, were it not for Sorensen and Edsel's role in playing up to the U.S. government and building the huge Willow Run plant to accommodate war production, Ford might have gone down soon after Pearl Harbor. Remember, old Henry was a renowned pacifist who had a particular scorn for President Roosevelt and the war effort. But he did slyly sidestep the issue after December 7,1941.
Continue to the next page to read about the 1941 Ford models.
For more information on cars, see:
Classic Cars

New Car Search

Used Car Search