1946 Ford Sportsman
Unlike the Nash, which was a four-door sedan (1,000 produced), the 1946 Ford Sportsman came only as a convertible. Meanwhile, the 1946-1948 Chrysler Town and Country straddled the fence with both a sedan and ragtop, and achieved total production of 12,439 units (two-thirds of them soft tops).
In all three cases, the woodies were designed to lure buyers back to dealer showrooms after World War II by adding a touch of glamour to a very familiar-looking model line. In Ford's case, the result was actually two cars, the Sportsman and a kissin' cousin, the Mercury Sportsman -- of which only 205 were built!
The idea attracted Henry Ford II because it was easy and cheap to execute. The company already had massive northern timber forests and a processing plant at Iron Mountain, Michigan. It had been supplying raw materials for Ford's woody wagons since 1936, and a convertible would be no more costly or difficult to build.
Each Sportsman began as a stock convertible with a section of rear sheetmetal cut away, replaced by a steel "skeleton." To this was fitted the wood framing, made from solid wood blocks and mitred together with handcrafted precision. All 1946 Ford Sportsmans used "A" type framing with full-length horizontal members. Later cars employed "B" and "C" styles with vertical segments. The 1946 rear fenders didn't match the wooden trunk lid's new curvature, but 1941 sedan delivery fenders -- with 1941 taillights -- did.
Otherwise, the Sportsman was much like any other 1946-1948 Ford, except that standard equipment included hydraulic window lifts, leather upholstery, and dual visor vanity mirrors. Despite its high price, $494 more than the $1,488 Super Deluxe ragtop (a 33 percent premium), the Sportsman was a fair success.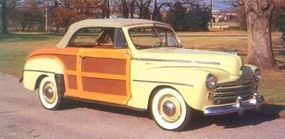 The first one was delivered to film actress Ella Raines on Christmas Day 1945, just three months after Henry II took over as company president. Another 1,208 followed for 1946, plus 2,250 in 1947, and 28 for 1948 (reserialed 1947s). All in all, the Sportsman accomplished its mission, and today it's a Ford to remember and cherish, a handsome reminder of a unique period in American automotive history.
Ford prices were way up for 1946 -- by nearly $300 on DeLuxes and $400 on Super DeLuxes, and dealers were still singing the blues. Even the Ford DeLuxe coupe with the six listed for $1,074, meaning there were no Fords left for under $1,000. Most people had to pay the dealer an extra $200 to $400 under the table to get their 1946 Ford.
A lot of other buyers didn't receive theirs until sometime during 1947. Some 468,022 of the 1946 models were produced, against well over a half million orders.
For more on the 1947 Ford models, see the next page.
For more information on cars, see:
Classic Cars

New Car Search

Used Car Search