1947 and 1948 Fords
The 1947 and 1948 Fords marked the end of an era at Ford, the passing of the torch from one generation to the next, but these cars were not without their faults.
In his review of the 1947 Fords and Mercurys, "Uncle" Tom McCahill sniped at other minor details, but did have one backhanded compliment: "This year the engines on both Ford and Merc remain the same 100 horsepower V-8, the best ever built in Ford history -- but the rear axle ratio has been changed from 3.54:1 of last year to 3.78:1 of former years. During last year the once flash pick-up Ford found that in high gear at speeds under 40 mph, some of its competitors could not only stay with it but even beat it.
"But at high speeds the Ford and Mercury could outdistance all price rivals; they were among the best high speed cruising cars ever built in this country. You could cruise a 1946 Ford all day long at 70 without causing undue wear. In 1946 the Ford engine turned over fewer times per mile in high gear than any other car made in America, regardless of price, except for some cars equipped with overdrive. It now turns over an increase of about nine per cent.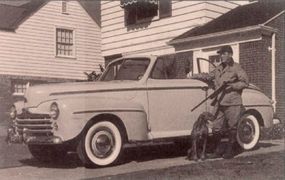 "The 1947 change affects performance considerably. The 1946 Ford lost some of its [low end] flash and, in addition, hill climbing ability suffered considerably. This won't happen with the new 3.78 rear end. But today when you drive a 1947 Ford an even 60 the engine will be turning approximately the same rpms as a 1946 Ford engine doing 65. All in all the change seems to be worthwhile because the new models will prove more satisfactory performers to a wider range of buyers."
And McCahill concluded: "In today's market with all cars selling for more than they are worth, I don't know where you can find a better buy than offered in either the Ford or Mercury. For every owner found swearing at his Ford you'll find a thousand swearing by it."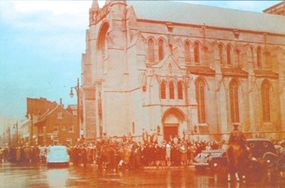 The 1947-1948 Fords truly marked the end of an era. Old Henry Ford passed away peacefully in his sleep the night of April 7,1947. His last personal car was a dark blue 1942 Super DeLuxe Fordor sedan with a 1946 Super DeLuxe grille. Not long before his death, he and Clara saw a clay of the forthcoming 1949 Ford. He had little to say, which by that time in his life must have meant approval or at least contented resignation to the new wave in management.
For more information on cars, see:
Classic Cars

New Car Search

Used Car Search