Introduction of the 1941 Ford Super DeLuxe
With a new series of top-of-the-line models, the company prepared for the introduction of the Ford Super DeLuxe. This series was offered as a Tudor, Fordor, coupe, convertible coupe (now with an electrically operated top), wooden-bodied station wagon, and a reincarnated coupe sedan (it had been dropped after 1938).
The Ford Super DeLuxe sported more chrome and stainless on the exterior than the other models, plus all manner of interior upgrades including a clock, choice of interior fabrics, "Kelobra" wood-grained dash and door moldings, and a smart Super DeLuxe horn ring. Another feature was crank-controlled vent windows. Super DeLuxe colors were Lochaven Green, Mayfair Maroon, Paradise Gray, Black, Harbor Gray, and Cayuga Blue.
The mid-range DeLuxe series listed a Tudor, Fordor, coupe, and woody wagon, but not a coupe sedan or convertible. Colors were Black, Harbor Gray, and Cayuga Blue. Predictably, the DeLuxe had less bright trim (no wheel trim rings, for example) and only the center grille was chromed.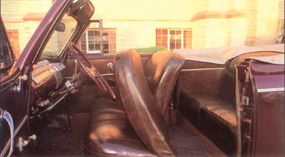 But DeLuxes did retain dual windshield wipers and sun visors and some Ebony woodgrain. The Super DeLuxe and DeLuxe had the V-8 as standard equipment, the new six being a $15 delete option.
The new Special series came only as a Tudor, Fordor, and coupe -- and only in Harbor Gray, although any Super DeLuxe color could be had for $20 extra. And heresy to Henry for sure, for the new six was the standard -- and only -- engine offered. A true stripper, the Special received only a single horn, single taillight, and single wiper and visor.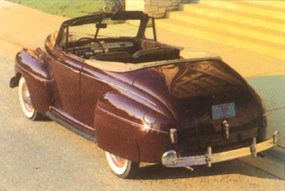 Though two coupe versions were listed for other series, the only Special coupe had a top-hinged seatback that lifted upward from the bottom to expose the trunk area. In DeLuxe/Super DeLuxe versions, a split seatback pivoted forward into fold-down jump seats for two additional passengers.
Prices for the 1941s ranged from $684 for the Special coupe six to $859 for the Super DeLuxe Fordor V-8 to $1,013 for the Ford Super DeLuxe V-8 wagon, the first Ford to top the $1,000 barrier since the 1930 Model A Town Car. The new Ford Super DeLuxes averaged about $50 more than DeLuxes.
See the next page for information about the 1942 Ford Super DeLuxe.
For more information on cars, see:
Classic Cars

New Car Search

Used Car Search