1942 Ford Super DeLuxe
The 1942 Ford Super DeLuxe, introduced on September 12, 1941, can only be described as less car for more money. Prices crept up across the board by about $100, and signs of material shortages were evident everywhere (an industry-wide problem).
Chrome couldn't be used except on bumpers and grille because nickel and copper were on the limited-supply list. Ford answered that one by using zinc plate on trim and varnish over it. Stamped steel horn rings and some grille parts replaced diecast zinc. Hubcaps were made of stainless steel, actually a quality improvement.
After December 31, all trim had to be painted (or plastic covered) -- even if it was already chrome or stainless, this so that no make would have an advantage over another. Ford painted its trim tan. Ugly as they looked, the "blackout" models are highly collectible now for their rarity.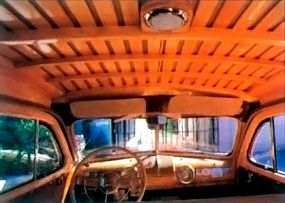 Of course, no aluminum could be used, so pistons were made of a cast-iron alloy. Molybdenum replaced nickel in valves, gears, and shafts, another quality improvement. The Ford's frame now stood an inch lower, and the ride was improved via longer and wider transverse springs, twin lateral stabilizers, and two-inch-wider tire treads. In the quest for more quiet, Ford engineers added large cushion rubber insulators between the body and frame and improved the engine mounts.
The front end was all-new with a bolder hood and more impressive one-piece fenders. The grille was flattened and made rectangular, with a heavy ornamental frame surrounding two sets of vertical ribs separated by a heavy bright strip down the middle. Parking lights migrated from atop the fenders to inboard of the headlights. Ford's more massive look for 1942 merely followed an industry trend started by style-leader General Motors, and which had already been evident on Chevrolets -- and Plymouths for that matter.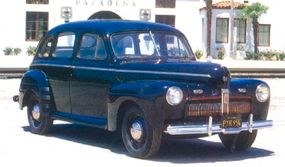 Doors now flared out completely over the running boards, and rubber stone guards adorned the rear fenders. Splash pans were placed between the wider bumpers and body. Taillights went from vertical rectangles to horizontal ovals, and were trimmed with extra chrome on Super DeLuxes, which also boasted blue stripes in the grille, unique bumpers with a groove at the top, and more chrome around the windows. It was all part of the new "Stagedoor Canteen" look with "That old Black[out] Magic," to quote two hit tunes of 1942.
The instrument panel was much changed, though perhaps not improved. Plastic was used more extensively, including the radio grille. The former horizontal dash gave way to a General Motors-style treatment with the speedometer and clock carried symmetrically in big circles on either side of the speaker grille; the four gauges mounted to the left of the speedometer. Woodgraining remained on the dash, but overall one could argue that the use of plastics gave the interior a wartime look.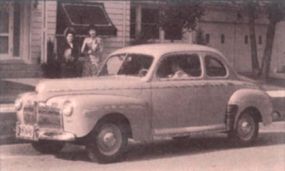 The same three series were listed, with all 1941 body styles continued. Prices rose to $780 for the Special coupe and $930 for the Ford V-8 Super DeLuxe Fordor. Six models were now priced over $1,000:  Ford DeLuxe and Super DeLuxe wagons and the Ford Super DeLuxe ragtop, all with either six or V-8. Total output for 1942 ended up at a mere 160,432 units, making this the company's lowest production year since 1910, and just two percent of total Ford production from 1932-1948.
Part of the reason for the low production numbers for 1942 was the United States' impending entry into World War II. See the next page to learn how Ford fared during wartime.
For more information on cars, see:
Classic Cars

New Car Search

Used Car Search