1947 Ford Models
The factory-suggested prices for the 1947 Ford models went up $120 on average. Dealer prices went up a lot more. The factory, pretty much stopping the money-under-the-table practices, let dealers put their own prices right on the windshield. Some were charging up to $2,000 for dosed models and loading them up with every high-priced accessory imaginable.
All body styles carried over into 1947 and 1948, including the novel Sportsman. The shorter 1947 model year saw output reach 429,674 cars, while output inched up to 430,198 units for the even shorter 1948 model run (the 1949s came out early). The 1948s were virtually identical to the 1947s, though it should be noted that early 1947s were really 1946s, while the freshened "1947-1/2" models went on to become 1948s.
That meant minor trim changes highlighted by plain grille bars (sans the red striping), a mildly modified upper grille bar, series and engine designation on the front of the hood, and round parking lights below the headlights. Other tweaks included slightly lowered fender bright strips, curvier bumper guards, and a wide chrome piece above the license plate that doubled as a "FORD" nameplate.
The six also received a five-horsepower boost to 95. Though factory prices remained unchanged through 1947-1948, as did most of the specifications, the most disappointing change was the elimination of the beautiful backlit gauges. However, the new gold on black-and-white gauges were quite attractive in their own right.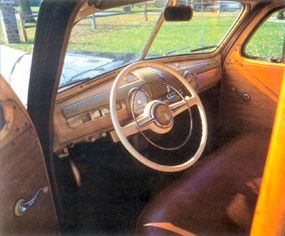 Tom McCahill, reporting on the 1947 Ford and Mercury in the August 1947 Mechanix Illustrated, made these observations: "How do the 1947 Fords and Mercurys stack up with the 1946 models? Are they better, have they put more in them? The answer is: No, they are not better and they have put less in them. I have many friends in the Ford Motor Company and I doubt if they will like this article, but as I am really working for you readers, I will continue to report things as I find them.
"Anyone checking over either the new Ford or Mercury will find a number of places where dollars have been saved over the preceding model. For example, on the 1947 Ford Super DeLuxe offering, the small draft-prevention windows are no longer operated by a crank handle. Instead, you just push them by hand to the desired opening and trust to luck that they stay there."
For more on the 1947 and 1948 Fords, continue to the next page.
For more information on cars, see:
Classic Cars

New Car Search

Used Car Search