Ford Production During World War II
Ford production during World War II was transformed to aid the war effort. All civilian auto production was halted by February 10, 1942; any Fords built after that date were spirited away to government warehouses or turned over to the military.
Despite Henry Ford's anti-war views, his company contributed heroically to the war effort. Overnight, Charlie Sorensen and a few others had turned from cranking out Fords to building B-24 bombers, jeeps, tank engines, and a wide array of other military hardware. The Willow Run B-24 plant was really Sorensen's idea, and more than a year before Pearl Harbor he had somehow managed to get Henry's approval. That wasn't easy -- after suffering a second stroke in 1941, Henry became even more set in his ways.
Not long after Pearl Harbor, Edsel Ford's health went from bad to worse. Doctors diagnosed his problem as a stomach ulcer, but an operation in January 1942 revealed extensive stomach cancer. But the official cause of his death on May 26,1943, was listed as undulant fever from drinking contaminated milk from the Ford farms. Those close to the scene knew it was Edsel's longtime cancerous relationship with his father. For this, the family -- especially Henry II -- would never forgive the old man.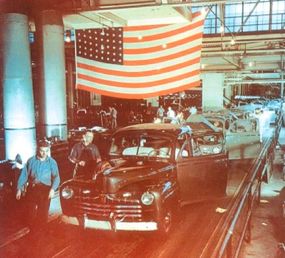 Although Willow Run had been finished for a year at the time of Edsel's death, it still wasn't turning out many B-24s, which had Washington worried. In August, young Henry Ford II was released from his duties as a naval ensign to help his grandfather, who was now president of Ford again after 24 years. Not that Henry particularly welcomed help or wanted to see the company in anything but a complete state of disarray.
Predictably, Henry II and Sorensen both tangled with Harry Bennett, who claimed no "boy" could run the company, and who blamed all of Willow Run's production delays on Sorensen. The elder Ford naturally listened to Harry, so Sorensen resigned under duress. Laurence Sheldrick, head of engineering, was fired. He and Gregorie had unwisely shown Henry II plans for modern postwar Fords with a "new fandangled" independent front suspension.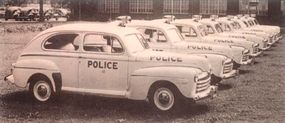 Old Henry and Harry made no bones about their dislike for young Henry's poking about. Still, the heir to the Ford fortune was made an executive vice-president in December 1943. From that time forward, the pressure was on old Henry from his wife, Clara, and daughter-in-law, Eleanor, to "let go." After a furor over an alleged codicil and a threat by Eleanor to sell her company stock, the old buzzard finally capitulated.
Young Henry became president on September 21,1945 -- and Harry Bennett was quickly sent packing. Former FBI agent John Bugas took his place, while Jack Davis returned from his California exile. A whole new, youthful regime, borne out of wartime experience, came in. A giant rebirth at Ford was at hand.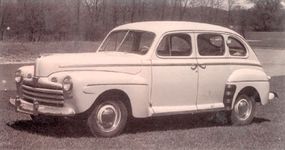 Henry II vowed to avenge the death of his father and rebuild the Ford empire as a monument to his memory. It was an obsession he carried to his grave, leaving the Edsel automobile and 30 years of fired Ford presidents as his legacy. Some even say that as Henry II grew older he became more and more like his grandfather. In any case, Henry II's story and Ford's incredible rebirth go way beyond the 1946-1948 models.
Continue to the next page to see how Ford rebounded from wartime with the 1946 Ford models.
For more information on cars, see:
Classic Cars

New Car Search

Used Car Search