A combination of comfort and utility have won the 1955 Ford F-100 pickup a legion of fans.
By the mid 1950s, truckmakers were touting comfort, and Ford advertised "foam rubber 5 soft inches thick" in the seats of its new pickups. Went the pitch: "Only Ford offers so much working comfort, to help you get jobs done easier -- to make Ford Trucks still more efficient money makers!"
Classic Truck Image Gallery
Ford went on to note the "Driverized" comfort of the roomy new cab, with visibility aided by a curved one-piece windshield and 2,100 square inches of glass.
The 1955 Ford F-100 pickup also had free-breathing woven plastic upholstery, "Counter Shock" seat shock absorbers, and "no-sag" springs -- even the seatback and cushion were independently adjustable.
Ford introduced the Custom Cab option for the 1955 Ford F-100 pickup. Although basically a new name for the 1954 Ford DeLuxe cab, it added 17 amenities, including foam rubber cushions, color-keyed two-tone upholstery, armrests, dual horns, light gray sun visors, side bolsters, kick and door panels, headliner, and sound deadener.
A large Custom Cab emblem was on the doors just below the window, and chrome plating decorated the upper grille bar and drip rail. Further dressing up the 1955 Ford F-100 pickup Custom Cab was a selection of bright new colors and the option of two-toning.
Fordomatic transmission, power brakes, and tinted glass had been available on light trucks since 1953, power steering since 1954. Thus, by 1955, a pickup buyer could order most of the luxuries that were becoming popular on cars. Even so, most pickups were still the basic tough, workaday variety, geared to hauling goods dependably and economically.
The 1955 Ford F-100 pickup kept basic styling cues from the 1953 model, which had been revamped extensively, employing a more modern cab with a lower beltline and car-like pushbutton door handles.
Collectible Pluses of the 1955 Ford F-100 Pickup
A legion of fans

Very high quality of construction

Slick styling

Truck luxury with the Custom Cab option

Good performance with V-8
Collectible Minuses of the 1955 Ford F-100 Pickup
Moderate investment value

Some body parts very scarce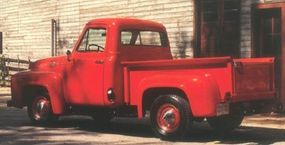 Ford's pitch for the 1955 F-100 pickup targeted comfort as much as utility, though it said a more comfortable truck makes work easier.
For more great articles and pictures on new and classic trucks, see:
Consumer Guide Auto Reviews and Prices