Design features of the 1954 Chevrolet Series 3100 half-ton pickup were unique -- but also short-lived.
Chevy's Advance-Design generation of trucks, introduced in 1947, received its first major restyle in 1954, including a triple row of large horizontal grille bars bisected by a vertical bar, with parking lights incorporated in the grille. (Incidentally, these interchanged with the corresponding GMC model.)
Classic Truck Image Gallery
The new grille could be ordered in chrome, but because this cost extra, it is seldom seen on surviving trucks. On painted grilles, the outer bars were painted in the body color; the inner bars painted Thistle Gray, Argent Silver (on red trucks), or white (on white trucks). Bumpers were Anvil Gray.
For the 1955 "first series," which was identical in appearance, bumpers and outer grille bars were ordinarily Bombay Ivory; but white on white trucks, which had black inner grille bars.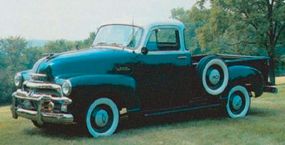 A chrome grille was a rarely ordered option forthe 1954 Chevrolet Series 3100, and few survivingexamples are so equipped.
The cargo box was changed for 1954, with higher walls and a flat (instead of sloping) top rail. Taillights were large square units, and the hood ornament was redesigned.
An important styling change was the use of a one-piece windshield, moderately curved -- full wraparound glass would arrive in late 1955. The 1954 (and early 1955) rear bumper was unique to this series, with a dipped center section to hold the license plate -- very hard to find as a replacement part.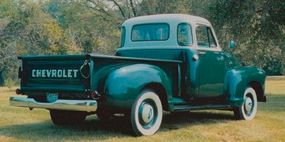 This 1954 Chevrolet Series 3100 pickup sportstwo-tone paint, a treatment that was carriedover to the instrument panel.
Mechanically, the 235.5-cid six was virtually a new engine, with higher compression, insert bearings, and high-pressure lubrication; it had been introduced on Powerglide-equipped passenger cars in 1953. Torque-tube drive was retained and Hydra-matic transmission was an extra-cost option.
Some features were putting in their final appearance -- running boards, for example, would move inboard starting with the redesigned later 1955s.
The 1954 and early 1955 Advance-Design was therefore a fairly unique, little-seen truck, marking an interim period between the first postwar redesign of 1947 and the colorful, passenger-car-based trucks of late 1955 and beyond.
Collectible Pluses of the 1954 Chevrolet Series 3100 Half-Ton Pickups
Uncommon design period, spanning less than two years

Unique looks, more massive than before, more purposeful than later

Superior engine
Collectible Minuses of the 1954 Chevrolet Series 3100 Half-Ton Pickups
Some parts specific to this model are very hard to find, notably back bumpers and hood ornaments
For more great articles and pictures on new and classic trucks, see:
Consumer Guide Auto Reviews and Prices