1930 Ford Trucks
Ford trucks in 1930 were updated with sleek style changes. Several special models were also added to widen the make's appeal.
First offered on trucks for 1930, Deluxe trim included stainless-steel radiator and headlights, which really helped dress up this Vermillion Red Ford pickup. Broad whitewalls and a chromed spare-tire cover didn't hurt either. Regardless of body color, the fenders -- which trailed back farther in front for 1930 -- were always black.
1930 Deluxe-trim Ford Sedan Delivery
A restored Deluxe-trim Ford Sedan Delivery shows off the side-hinged rear door that provided easy access to cargo.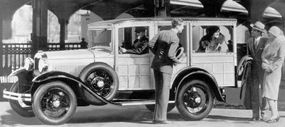 1930 Ford wood-bodied Station Wagon
Ford wood-bodied station wagons could seat up to eight passengers.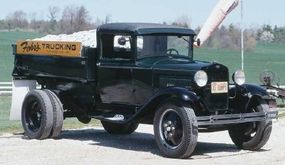 A rare 1930 AA dump truck on the standard 1311/2-inch wheelbase shows off the steel disc wheels adopted by heavy-duty Ford trucks during the 1929 model year, as well as the available dual rear wheels. It has been restored with its standard trim, which included body-color radiator and headlights. Power comes from a 200-cubic-inch, 40-horsepower four-cylinder engine similar to that used in contemporary Model A cars, but it's mated to a four-speed transmission (vs. a three-speed) for a wider range of gear ratios.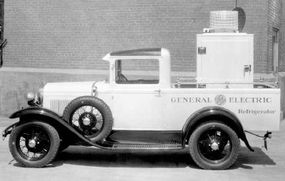 An unusual truck based on the Model A (1031/2-inch wheelbase) chassis was the Ford Deluxe Pickup, featuring a high-walled cargo bed integral with the cab. Chrome rails were fitted to the top of its wood-lined bed. Many were used by General Electric to promote refrigerator sales, but the body style would be discontinued after 1931.
Ford trucks in 1931 featured more sleek styling. Check out the Ford trucks of 1931 in the next section.
Want more information about Ford trucks? Try these:
1990-1999 Ford Trucks

1960-1969 Ford Trucks

1950-1959 Ford Trucks

1940-1949 Ford Trucks

Consumer Guide Auto New Large Pickup Truck Prices and Reviews

Consumer Guide Auto New Compact Pickup Truck Prices and Reviews

Consumer Guide Auto Truck Buying Guides

Consumer Guide Auto Used Compact Pickup Truck Prices and Reviews

Consumer Guide Auto Used Large Pickup Truck Prices and Reviews